Aug 4, 2016 | Uncategorized
UPDATE: Congratulations to Connie for winning this giveaway!!!
In celebrating the release of THIS EARL IS ON FIRE, I'm hosting a GIVEAWAY for one $25 Amazon gift card!!!

But since there can only be one winner*, I wanted this to be fun for everyone. So, TO ENTER, post (below) the name of an actor or model who would make the PERFECT HERO INSPIRATION for a book. Then all next week, I'll post these "heroes" on Facebook.
*One winner will be randomly chosen tomorrow, Friday, 8/5, and notified via the email address attached to her/his post below.
Thank you for dropping by and good luck!
And as always…
Warm wishes and happy reading,
Viv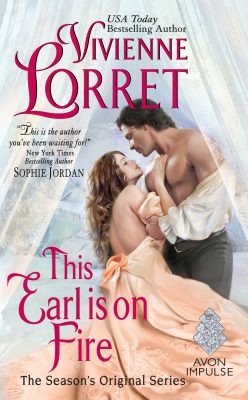 Comments
31 Responses | TrackBack URL | Comments Feed
I always love your cover art… but the stories are even better!!

Thank you, Kate! <3 The Avon art department does a wonderful job with these covers!

Alex O'Loughlin would be my top choice. Then there's Mark Harmon and Tom Selleck. LOVED The Earl is on Fire!!!

<3 Thanks, Dee! I have to agree... with all of your choices. And Alex O' has quite the tantalizing smirk. :D

Well, he would need to be an English actor and I think Josh Bowman but fit the part perfectly. 🙂

ALex O'Loughlin is simply hot.

Gerard Butler knows how to wear a kilt (fanning self).

Mmmm… you are speaking my language, Julie-ann! And now I'm fanning myself, too. 😉

Sean Connery – Albert Finney – either one could turn heads when they were a wee bit younger than they are now.

Sean Connery *le sigh* <3

Richard Armitage. The ending scene of North & South was amazing.

Let's see – If you're looking for someone rakish, maybe a younger Jeffrey Dean Morgan? The bedroom smiles he gave Julianna Margulis in "The Good Wife"? Oh, man! The chemistry!

Ooooh! I LOVE him! <3 Great choice!

My hero for a book would be Tom Hardy!
Every book I read I visualize him , he's my book boyfriend

My hero would be Viggo Mortensen. Hot! Hot! Hot!

Oh, Aragorn! *le sigh* *le purr*

Aidan Turner. He's my go to "imagery" lately. 😀

Mmm… Poldark. Very nice! 🙂

Michael Fassbender 😀 🙂
Congratulations on new release,the cover is wonderful 🙂

Thank you, Bube! And I quite enjoy your hero choice. 😉

My favorite is Rupert Penry-Jones. I just adore him and he would be the perfect hero!

*swoon* Captain Wentworth!!! <3

Josh Hartnett..he played Ethan Chandler on Penny Dreadful….LOVED him!

He has that sexy boy-next-door thing going for him. 😀

Scott Eastwood can be the inspiration for a book and the cover model! 😉

Congrats on your new book! My choice would be Josh Kelly, I think he would totally make the perfect hero!