All I Want for Christmas Is a Duke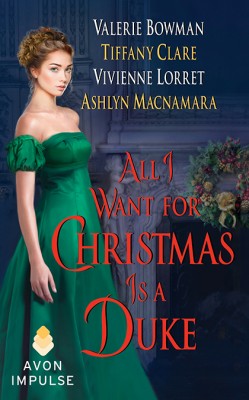 The holidays are a time for dining, dancing, and of course-dukes! Celebrate the Christmas season with this enchanting collection of historical romances featuring the most eligible bachelors of the ton...
The Duke and Duchess Trap by Valerie Bowman--A childish prank may have reunited the Duke of Hollingsworth with his estranged wife, but only the magic of Christmas will show this couple 'tis the season of second chances...
Sophie and the Duke by Tiffany Clare--Sophie Kinsley planned to remain a wallflower at the Duke of Helmsworth's ball. Yet when a dance with him leads to a stolen kiss, will the duke be willing to let her go? Or will Sophie's Christmas wish be granted at last?
The Duke's Christmas Wish by Vivienne Lorret--To the Duke of Vale, science solves everything-even marriage. When the impulsive Ivy Sutherland makes him question all of his data, he realizes that he's overlooked a vital component in his search for the perfect match: love.
One Magic Season by Ashlyn Macnamara--Patience Markham never forgot the fateful dance she had with the future Duke of Kingsbury. But when a twist of fate brings them together for Christmas Eve, will the stars finally align in their favor?