All I Want for Christmas Is a Duke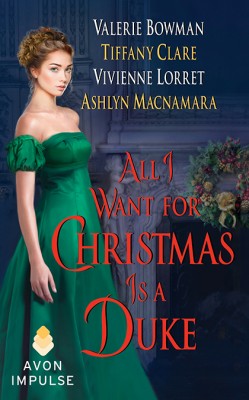 Print: December 22, 2015
eBook: December 1, 2015
Publisher: Avon Impulse
ISBN: 9780062441515
The holidays are a time for dining, dancing, and of course-dukes! Celebrate the Christmas season with this enchanting collection of historical romances featuring the most eligible bachelors of the ton...
The Duke and Duchess Trap by Valerie Bowman--A childish prank may have reunited the Duke of Hollingsworth with his estranged wife, but only the magic of Christmas will show this couple 'tis the season of second chances...
Sophie and the Duke by Tiffany Clare--Sophie Kinsley planned to remain a wallflower at the Duke of Helmsworth's ball. Yet when a dance with him leads to a stolen kiss, will the duke be willing to let her go? Or will Sophie's Christmas wish be granted at last?
The Duke's Christmas Wish by Vivienne Lorret--To the Duke of Vale, science solves everything-even marriage. When the impulsive Ivy Sutherland makes him question all of his data, he realizes that he's overlooked a vital component in his search for the perfect match: love.
One Magic Season by Ashlyn Macnamara--Patience Markham never forgot the fateful dance she had with the future Duke of Kingsbury. But when a twist of fate brings them together for Christmas Eve, will the stars finally align in their favor?
"...creative, festive, and just the perfect mix of sexy and romantic!" Lisa Filipe, A Tasty Read.
"...an utterly charming holiday romance ..." Cris Araujo, Cris Conquers
"Unique, intense and passionate, North and Ivy's enlivening and surprising story entranced me from start to finish." The Lusty Literate
Other Books In This Series
Excerpt
from THE DUKE'S CHRISTMAS WISH
By the time he cleared his head, Miss Sutherland was taking a few hurried backward steps. When she turned around, she ran headlong into him with a surprised Oh! and then an oof!
North stumbled back into the ascending room. He did everything he could to remain upright. Planting his feet wide, he was forced to hold her against the sturdy column of his body. Forced to grasp her arms. Which, incidentally, were bare between her velvet-trimmed cap sleeves and elbow-length gloves. Bare beneath his hands. Bare, warm, and softer than goose down.
A shudder—that was more about untamed desire than preoccupation—quaked through him to his very core. Staring down into her almond-shaped eyes, he watched as they widened and swept over his features, from brow to chin. Her gaze lingered a fraction longer on his mouth, as if she was waiting for him to speak or, perhaps, waiting for him to kiss her.
He took a moment to speculate whether it was the former or the latter. In the seconds that passed, he catalogued how her hands were resting against his chest, not pressing as if she wanted to gain her freedom but curled slightly as if trying to capture the beat of his heart in the cup of her palms. Also, she made no movement to separate from him. Her breathing was rapid—though perhaps that was the result of running down the hall. When she wet her lips, however, she provided an irrefutable answer.