Dec 24, 2020
Want a little more of Raven and Jane for your holiday? The epilogue for MY KIND OF EARL is here at last!
Wishing each of you good health, peace of mind, and a merry and joyful Christmas.
Nov 26, 2020
Wishing everyone a happy Thanksgiving. No matter where you are in the world, I'm thankful for you.
Oct 27, 2020
If you have a passion for puzzles, you're going to love this:
a signed copy of MY KIND OF EARL and LORD HOLT TAKES A BRIDE,
a 500 piece My Kind of Earl jigsaw puzzle AND a roll-up puzzle mat,
along with a signed copy of Lenora Bell's LOVE IS A ROGUE (on sale now)!
I'll choose a winner on November 5th.
Until then… warm wishes and happy reading.
Oct 15, 2020
If you've read MY KIND OF EARL and want just a little more Jane and Raven, I have great news!
I've written an epilogue that gives a glimpse into the lives of Jane, Raven, the horde, Winn, Ellie, and even Prue. I'll be sending it out with my newsletter this December!
If you haven't already signed up, it's super easy. Just visit my webpage
www.vivlorret.net
and go the newsletter sign-up at the bottom right of the page.
In the meantime, warm wishes and happy reading!
Viv <3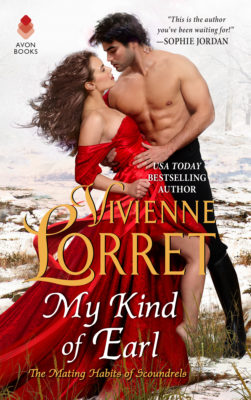 Sep 29, 2020
It's here!!! I'm so excited that I can FINALLY share Jane and Raven's story with you.
MY KIND OF EARL is book #2 in the Mating Habits of Scoundrels series (after Lord Holt Takes a Bride). I loved writing this fun and steamy story so much! Raven is our dark, brooding and untamed hero. Jane is our bluestocking researching the mating habits of scoundrels inside a brothel (as one does). When they meet, a raucous brawl ensues. He thinks he's rescuing her. She thinks she's saving him. But what happens next is something that neither one of them could ever predict.
I hope you enjoy their story.
Warm wishes and happy reading, 
Viv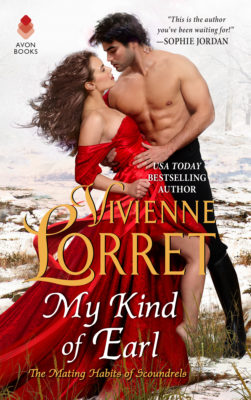 USA Today bestselling author Vivienne Lorret continues her charming new trilogy with a bluestocking whose search for information on the mating habits of scoundrels has her stumbling upon the missing heir to an earldom… in the London underworld.
Jane Pickerington never intended to start a brawl in a brothel. She only wanted to research her book. Yet when her simple study of scoundrels goes awry, she finds herself coming to the rescue of a dark, enigmatic stranger… who turns out to be far more than an average rake out for a night of pleasure. He's positively wild!
Only the most feral and cunning could have survived foundling homes and work houses. Orphaned as an infant, Raven never had another name. At least… not until he meets her. Now he's face-to-face with the one person who recognizes the strange birthmark on his arm and can reinstate him to his blue-blooded birthright.
All at once, Raven's life takes a turn. His knowledge of dark alleys and gaming hells never prepared him for gilded ballrooms. So Jane becomes his tutor. Yet, the more lessons in decorum she offers, the more this untamed scoundrel wants to teach her all the ways to be wicked.
Available now:
Amazon: https://amzn.to/36s5eME
Avon: https://bit.ly/2ZtScwU
GooglePlay:  https://bit.ly/2AQcUN6
iBooks: https://apple.co/2TvQRBK
Kobo: https://bit.ly/3c1TSQF
Jun 8, 2020
I turned in the copyedits for MY KIND OF EARL today! Yay!!!
To celebrate, I'm sharing a sneak peek inside the pages of this bluestocking-meets-scoundrel story. Enjoy!
Pre-order links:
Amazon: https://amzn.to/36s5eME
Avon: https://bit.ly/2ZtScwU
May 31, 2020
Exciting news!
TEN KISSES TO SCANDAL will go on sale for only $1.99 for the first part of June. The sale price begins tomorrow. So, if you haven't had the chance to read Nicholas and Briar's story… or if you have a friend who could use a little romance in her/his life… then this is the perfect time to download!
As always, I hope you and your loved ones are happy, healthy, and safe. <3 And if you ever need a little bookmark mail, just drop me an email with your request (and mailing address) and I'll be happy to send you the bookmark of your choice. I even have a few for TEN KISSES TO SCANDAL.
Warm wishes and happy reading,
Viv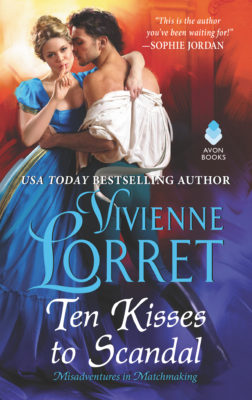 AMAZON: https://amzn.to/2J5w9BQ
AVON: http://bit.ly/2MaVZFE
iBOOKS: https://apple.co/2Gj8ITT
GooglePlay: http://bit.ly/2E41OjH
KOBO: http://bit.ly/2I91OAG
May 11, 2020
And so it begins…
Today is an exciting day! I love a blank page!!! There are just so many possibilities. 🙂
Warm wishes and happy reading,
Viv
Mar 31, 2020
LORD HOLT TAKES A BRIDE is here at last!
I'm thrilled to share this Historical Romantic Comedy with you. I had so much fun writing Asher and Winn's story, and it is my sincerest wish that it will give you a smile or two. 
Warm wishes and happy reading,
Viv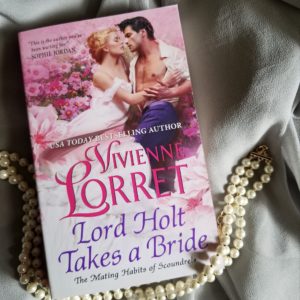 USA Today bestselling author Vivienne Lorret launches a charming new trilogy about three debutantes who get more than they bargained for when it comes to the mating habits of scoundrels…
Heiress Winnifred Humphries refuses to marry the odious man her parents have chosen. She'll marry for love or not at all. But how does a woman know a man truly loves her? Needing answers, she sets out to discover the marriage habits of London's aristocrats. Yet when her friends kidnap a lord for research, Winn knows they've gone too far. Now she's facing a wickedly handsome scoundrel who wants revenge.
Lord Asher Holt has the perfect plan to free himself of his father's debts. But when a trio of foolish debutantes abduct him, their scheme ruins everything! Fuming and tied to a chair, Holt overhears that one of them is an heiress. Perhaps he isn't above a little kidnapping either.
Yet, when the heiress runs away from her own wedding and straight into his waiting carriage, Holt finds himself on an adventure he'll never forget, falling in love with a woman worth more than any treasure. But will Winn ever believe his heart only desires her… and not her fortune?
links:
AMAZON: https://amzn.to/2tFiWg3
Apple Books: https://apple.co/2Mi0zUK
AVON: http://bit.ly/2QcNTzY
Google Play: http://bit.ly/2ECbJzy
Kobo: http://bit.ly/2Q45ee8
Mar 17, 2020
I'm hosting a DAILY e-GIVEAWAY on my Facebook page for the next two weeks, leading up to the release of LORD HOLT TAKES A BRIDE.
Why, you ask?
Because I want to celebrate all the hand-washing-hermits out there, all the people checking in on their elderly neighbors, all the moms and dads working from home, and all the lovely human beings who are simply doing their best to smile.
It's called the "LORD HOLT TAKES A BRIDE (after he washes his hands) GIVEAWAY!"
*The prize: an e-copy from Amazon of that day's title sent to the winner's email address.
*To enter, simply leave a comment below that day's post. I'll choose ONE winner at random each night at 7 p.m. (EST) and update the post with that person's name (and please "like" my page so the notification works).
*Oh, and btw, Facebook is not responsible for this giveaway at all, and neither is Amazon.
Please visit my Facebook page to enter: https://www.facebook.com/vivienne.lorret
Warm wishes and happy reading,
Viv