Archive for the 'Book News' Category
Mar 20, 2019 | Book Extras, Book News
Happy Spring!
To celebrate the welcome of warmer weather (at least, according to the calendar), I'm posting the book-flap excerpt for THE ROGUE TO RUIN. Enjoy!
Warm wishes and happy reading,
Viv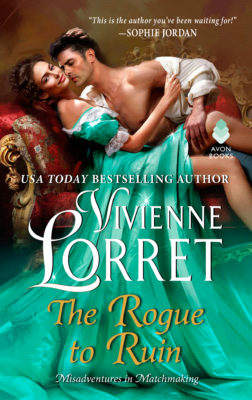 "I hardly need your advice," Ainsley scolded him in return, every word pushing her flesh against his. Almost as if… as if she had just kissed him.
But this wasn't kissing, she assured herself. This was merely a new form of arguing.
Anticipating his next contradiction, she angled her head for closer contact and Reed growled in response. The low, primal sound sent an unexpected thrill rushing through her.
"It would be a waste of breath to tell you anything," he said, fitting his other hand over the curve of her cheek to cradle her face. "Even if I wanted to say that your lips are soft and plump and more luscious than wine-poached pears, I wouldn't."
Then he tilted her head back to cement his argument. Opening her mouth with his own, he nibbled gently into her flesh, tasting the seam of her lips without hurry. The slow, thorough exploration caused her eyes to drift closed.
Her senses centered on the firm, enticing pressure of his mouth, the delicious rasp of his tongue. A wanton mewl tore from her throat, hungry and needy and urgent.
The unguarded sound brought her to an uncomfortable admission . . .
She might be kissing the enemy.
~
Pre-order links:
Amazon: https://amzn.to/2W9sf0B
Avon: http://bit.ly/2Fpmw1l
GooglePlay: http://bit.ly/2Cu6Vvw
iBooks: https://apple.co/2Tlaz06
Kobo: http://bit.ly/2TYycjr
Jul 18, 2014 | Book News
Winning Miss Wakefield hit the USA Today's Best-Seller List!!!! 
I'm so thankful and beyond excited about the popularity of Winning Miss Wakefield! My gratitude goes out to the amazing team at Avon/HarperCollins and to all my readers who made this dream-come-true possible.
Viv
Jun 29, 2014 | Book News, Contests
If you've been on my Facebook page, then you've already heard the awesome news: This week, I signed a new contract with Avon Impulse for 3 more books!!! 😀
The series is called THE RAKES OF FALLOW HALL.These books focus on three rakes who vow never to marry. They all want to avoid that particular noose. Yet, after a foolhardy wager one night, a sudden rivalry begins. Now, with a fortune on the line, it's every man for himself.
Then, one by one, they all start to fall. A single question remains: who will reap the spoils in the end?
I'm so excited to write these stories!!! Check out my Pinterest page, if you're interested in some of the inspirations behind each story.
To celebrate, I'm having a contest!!! Entering is simple. All you have to do is add your comment to the upcoming CONTEST thread on my blog (tomorrow), which will run from Monday, June 30th thru Wednesday, July 2nd. ONE winner will be announced on July 3rd.
Here is a sneak peek of the goodies
Until tomorrow, happy reading!