Dec 31, 2019
Wishing each of you a 2020 filled with effervescent laughter, cozy warmth, quiet moments, and the good fortune of plugging in your USBs on the first try every time. 
Dec 24, 2019
My holiday wish for each of you: May your lives be filled with the love and joy of the season, now and always. <3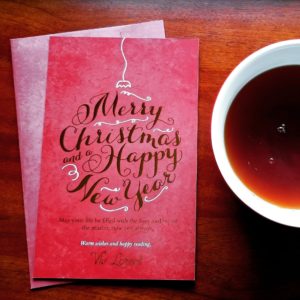 Dec 20, 2019
LORD HOLT TAKES A BRIDE earns a lovely review from Publishers Weekly: "Asher and Winn are endearingly complex characters with wit and chemistry to spare. Romance readers will be delighted."
I feel so incredibly honored and blessed and thrilled, and I cannot wait to share this book with each of you.
Until then…
Warm wishes and happy reading,
Viv
pre-order links:
AMAZON: https://amzn.to/2tFiWg3
Apple Books: https://apple.co/2Mi0zUK
AVON: http://bit.ly/2QcNTzY
Google Play: http://bit.ly/2ECbJzy
Kobo: http://bit.ly/2Q45ee8
Dec 9, 2019
For all the present-under-the-tree-shakers and gift-in-the-closet-peekers who need just a glimpse of LORD HOLT TAKES A BRIDE in order to survive the next 16 weeks until Asher and Winn's story hits shelves (3/31/20), this is for you. 🙂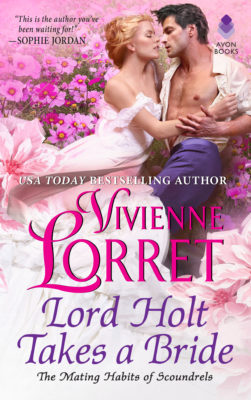 "Winn, this isn't the time to be shy," Asher said from the base of the ladder. "Toss down your dress."
She blushed to the roots of her hair. Unfortunately, even turning crimson wasn't enough to warm her frozen fingers and stop her teeth from chattering.
"I'm n-not b-being shy," she stammered, fumbling with the fastenings. "Y-you've already s-seen me w-without the dress."
"You're quite right. Therefore, there's no reason to stand upon ceremony."
Before she could ask what he meant by that, the top of his head emerged over the edge of the loft. She might have gasped at his audacity, but then the rest of him came into view and her mind whirred to a sudden stop.
Asher Holt was naked.
Well, mostly. His bare, broad shoulders and sinewy arms appeared first, muscles shifting and bunching beneath his skin as he navigated the final rungs—and far more adeptly than she had done. Then he unfolded from a crouch, and stood.
Her greedy eyes skimmed the length of him, taking in every . . . blessed . . . inch.
~LORD HOLT TAKES A BRIDE, available March 31, 2020
***
Warm wishes and happy reading,
Viv
Nov 28, 2019
Wishing everyone a delicious and peaceful Thanksgiving. And safe travels, too. 🦃
Warm wishes and happy reading,
Viv
Oct 19, 2019
This morning, I did the thing. You know, that cartoonish thing when you see a shadow scurrying across the floor and leap onto a chair? Ugh. I'm not proud of it. Even as it was happening, a wash of shame and absurdity rushed over me.
There I was, still groggy from sleep and not a drop of tea in me, and then I saw it… a minotaur-sized Indiana centipede. It scuttled on a determined path by my feet, doubtless fueled by a lust for blood.
Arrested, I took in every nearby weapon at my disposal: my laptop (too expensive and too cumbersome to wield in a do or die situation); a stack of books (but I cringed at the thought of ever holding them in my hands again after they'd been sullied by arthropod goo); and a decorative pillow (the burly bug would have shrugged off the attack and issued a low taunting chuckle, "Is that all you've got, lady?").
So, left without any options, I leapt to the chair, heart hammering in my neck, lungs shrinking to the size of bubble wrap and ready to burst.
The sudden jolt of activity was enough to rouse my sluggish brain into full wakefulness. And that's when I remembered that these beasts could climb.
Leaping from the chair with a distance that could rival any ballerina on her worst day, I dashed across the floor and retrieved the Lysol from the bathroom. Sufficiently armed with a yellow can that promises to kill 99.9%, I went back to face the monster. Only to find him gone. Vanished. And likely plotting a path upstairs to my bedroom where he will lay in wait amidst the woodgrain of my furniture.
Clearly, I'll have to move.
Sep 21, 2019
I recently attended a *cough* 30th reunion. And it was great seeing so many familiar faces and chatting.
A former classmate of mine offered the obligatory "you haven't changed since high school."
I smiled graciously.
Then he tilted his head and, with furrowed scrutiny, said, "No. You REALLY haven't changed since high school. It's almost like you're a vampire."
We both exchanged nervous laughs. I'm thinking this might be the sweetest compliment/accusation I've ever heard.
Until I remembered what I looked like in high school.
Teenage me in 3 words: complete walking disaster.
If I were a vampire, I'd be the most awkward, near-sighted immortal to ever roam the earth.
Sep 5, 2019
Thank you so much to everyone who voted in the recent Facebook/Twitter poll! Your support and eagerness to help means the world to me. <3 
I submitted the results to my editor. Unfortunately, they were either too similar to other titles, or simply didn't hit the mark (and believe me, this happens all the time).
Undaunted, I brainstormed and came up with something new.
It didn't fly either. So I tried again.
This one struck the target (yay!).
So without further ado, I'm happy to announce that book 2 in the Mating Habits of Scoundrels series is called….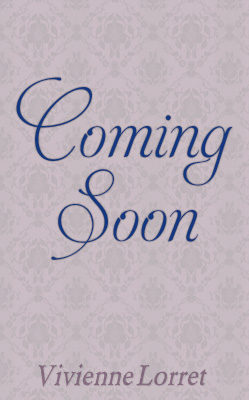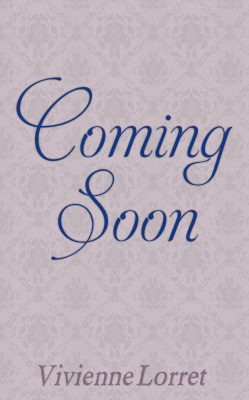 Sep 1, 2019
It's Blueberry Festival time in my corner of the world. Fried foods… craft booths galore… entertainers… more food… fireworks…the Blueberry Stomp race…parade…and the legendary blueberry donuts.
This hermit usually observes the crowd of thousands from a safe distance. But there have been occasions when the nostalgic appeal of an elephant ear (fried dough brushed with butter and sprinkled with cinnamon and sugar) has lured me into the throng. We'll see what happens this year…
In the meantime, we're all keeping an eye on Dorian and sending prayers to family, friends, and everyone in its path.
Wishing each of you a happy, healthy, and safe weekend.
Aug 13, 2019
**Fan Appreciation Mega Giveaway **
To express my heartfelt gratitude for the wonderful reviews and reception that you've given THE ROGUE TO RUIN, I'm hosting a mega giveaway to all my newsletter subscribers!
Up for grabs for one winner:
1. The entire Misadventures in Matchmaking series
2. A copy of Jane Austen's EMMA
3. A pink BABE canvas tote
4. A "warm wishes and happy reading" mug
5. An assortment of bookmarks and swag
I'll post the winner's name in the newsletter this Sunday, August 18th. Best of luck to everyone! 🤗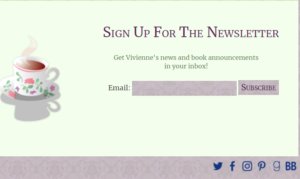 Warm wishes and happy reading,
Viv