The Elusive Lord Everhart
The Rakes of Fallow Hall Book 1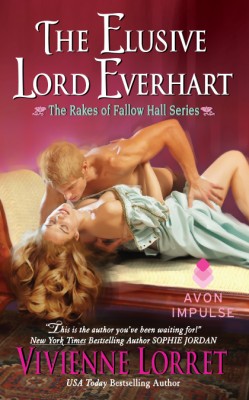 Print: April 14, 2015
eBook: March 24, 2015
Publisher: Avon Impulse
ISBN: 9780062380494
Gabriel Ludlow, Viscount Everhart, will never marry, and thus is sure to win the bachelors' wager amongst his friends. Assuming, of course, that his deepest secret—a certain letter containing a marriage proposal made in a moment of passion—doesn't surface. After all, without Calliope Croft to tempt him, there's no danger of losing. Or of falling in love.
Calliope wants revenge. Five years ago, an anonymous love letter stole her heart and ultimately broke it. Now Casanova has struck again, and Calliope vows to unmask the scoundrel, stopping him from breaking any more hearts. Yet, time and again, Gabriel distracts her from her task, until she can no longer deny that something about him calls to her …
Gabriel was a fool to ignore the depth of his feelings for Calliope, but the threat that kept him from her five years ago remains. Now he must choose between two paths: break her heart all over again or finally succumb to loving her … at the risk of losing everything.
"An enjoyable, steamy Regency romance begins this promising trilogy by Lorret (Winning Miss Wakefield). While Everhart's actions are at times questionable, readers will enjoy these two protagonists as they fight for love and honesty." - Library Journal
"Vivienne knows how to write a plot that will keep you turning the pages long into the night." - Jacquie Tobin-The Reading Wench Blogspot
Other Books In This Series
Excerpt
Calliope jolted. Sitting upright, her spine snapped into place with the suddenness of an arrow hitting a target. "Did you just…just kiss me?"
"Kiss you?" Everhart asked from behind her, his tone a combination of amusement and disbelief. "Preposterous. You know very well that I'm merely aiding in your recuperation. Nothing untoward. My fingers are here"—he thrummed them over the upper portion of her shoulders to demonstrate. "And my thumbs are here"—he burrowed the tips in a circular motion directly into the aching knot at the base of her neck.
She tried not to moan, but a soft whimper might have escaped nonetheless.
While he claimed this medicinal massage had been around for centuries, she knew nothing of it. Even so, she never wanted him to stop.
"I distinctly felt something that was neither thumb nor finger on the nape of my neck," she argued, but with no force behind the words. She found it difficult to summon any censure. Her body hummed pleasantly as if his hands massaged every inch of her, instead of merely her shoulders.
"This accusation comes from a wealth of knowledge on your part, does it?" He altered his grip, kneading her flesh with the heels of his hands.
She swallowed down another moan. "Well, no. But I think I would know the diff—"
"There you have it," he said succinctly. "You would not even know a kiss if it had happened, which it did not. Now tilt your head forward like before or you will strain yourself again."