The Maddening Lord Montwood
The Rakes of Fallow Hall Book 3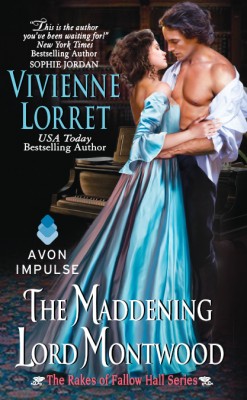 Print: August 18, 2015
eBook: July 14, 2015
Publisher: Avon Impulse
ISBN: 9780062380548
The Rakes of Fallow Hall wagered that they would never succumb to love—yet in Vivienne Lorret's newest novel, the final rogue meets his match
Frances Thorne can handle anything—except losing her position, her home, and her father to debtor's prison all in one day. So when a generous offer of assistance falls into her lap, she's grateful for a second chance, even if it seems too good to be true. The last thing she needs is for the charming, infuriating—maddening—Lord Lucan Montwood to stand in her way.
The end of the bachelors' wager is near, and Lucan Montwood can taste victory—just so long as he can stay away from the one woman who sees through his façade. Yet when he learns that Frances has been caught in an insidious trap, Lucan can't deny that he will do anything to help. Convincing her to trust him is the hard part, resisting her is next to impossible, but falling in love with her? That may be far too simple.
"Vivienne writes a suspenseful story that has beautiful moments of tenderness, laughter, a hot love scene that will make you squirm in your chair and a beautiful love story. I really loved this book ..." Jacquie Tobin, The Reading Wench
"What a brilliant story of injustice, evil, manipulation, karma, hope, love and possibilities...Vivienne Lorret creates amazing characters with depth, humor, tenderness and grace." Lisa, Buried Under Romance
Other Books In This Series
Excerpt
"You are putting your faith in the wrong man." Something akin to irritation flashed in his gaze like a warning shot. He took another step. "Perhaps those spectacles require new lenses. They certainly aren't aiding your sight."
"I wear these spectacles for reading, I'll have you know. Otherwise, my vision is fine," she countered, ignoring the heady static charge in the air between them. "I prefer to wear them instead of risking their misplacement."
"You wear them like a shield of armor."
The man irked her to no end. "Preposterous. I've no need for a shield of any sort. I cannot help it if you are intimidated by my spectacles, and by my ability to see right through you."
He stepped even closer. An unknown force, hot and barely leashed, crackled in the ever-shrinking space. She watched as he slid the blank parchment toward him before withdrawing the quill from the stand. Ignoring her, he dipped the end into the ink and wrote something on the page.
Undeterred, she continued her harangue. "Though you may doubt it, I can spot those snakes—as you like to refer to members of your own sex—quite easily. I can come to an understanding of a man's character within moments of introduction. I am even able to anticipate…" While she spoke, Lucan handed the parchment to her. She accepted it and absently scanned the page. "…his actions."
Suddenly, she stopped and read it again. "As soon as you've finished reading this, I am going to kiss you."
While she was still blinking at the words, Lucan claimed her mouth. The parchment crinkled. She heard an indrawn breath but wasn't sure if it was hers or his. All she knew was that the first press of his lips sent a ripple through her—her body clenching on a sigh of rapture as if she'd been waiting a lifetime for this.