Archive for the 'Uncategorized' Category
May 22, 2019 | Uncategorized
IT'S OFFICIAL!!!
I'm writing a new series for Avon Romance called THE MATING HABITS OF SCOUNDRELS. Squee! Many thanks (and hugs) to Nicole Fischer, Stefanie Lieberman, my fellow authors, and the readers who've given me so much love and support and encouragement.
This wouldn't have happened if not for you.
May 14, 2019 | Uncategorized
EXCITING NEWS IS ON THE WAY!!!!
Here's a hint… the news might have something to do with a character who first appeared in the novella, Just Another Viscount in Love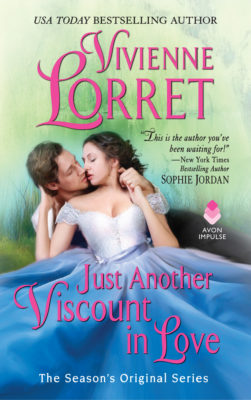 Warm wishes and happy reading,
Viv
May 12, 2019 | Uncategorized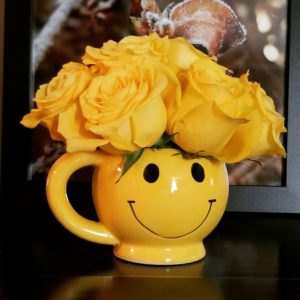 Warm wishes and happy reading,
Viv
Apr 20, 2019 | Uncategorized
Wishing you a bright and blessed Easter <3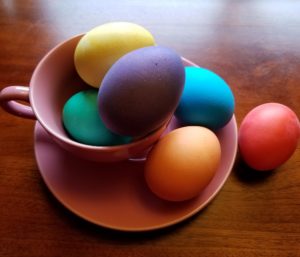 Warm wishes and happy reading,
Viv
Feb 14, 2019 | Uncategorized
Wishing you a romantic, love-filled day!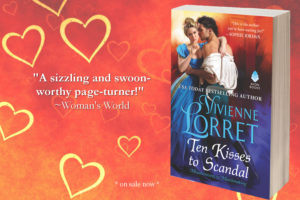 Jan 19, 2019 | Uncategorized
TEN KISSES TO SCANDAL is almost a month old! Can you believe it?
Sharing Briar and Nicholas's story with you has been a wonderful joy and a dream come true. And I want to send a special thank you to everyone who gave this book a chance, and also to those who took the time to offer a review. Sending much love your way! <3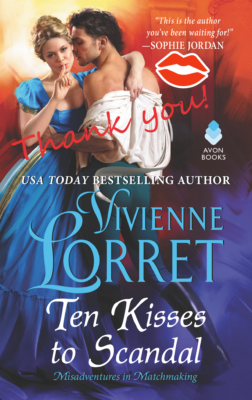 Warm wishes and happy reading,
Viv
Jan 1, 2019 | Uncategorized
Happy New Year!
My wish for 2019 is that each of you have more moments that make you smile. More "fluffy towels fresh from the dryer" moments. More "no alarm clock tomorrow so stay up all night reading" moments. More "fuzzy socks and hot cocoa" moments. More "perfect sunset" moments, and more "first snowfall" moments.
May your year be filled with these moments and so many more. <3
Warm wishes and happy reading,
Dec 10, 2018 | Uncategorized
TEN KISSES TO SCANDAL hits shelves in 2 weeks!!!
💋available December 24th💋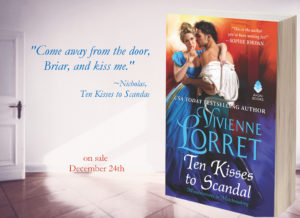 pre-order links:
AMAZON: https://amzn.to/2J5w9BQ
AVON: http://bit.ly/2MaVZFE
Dec 6, 2018 | Uncategorized
Behold, the new cover for THE ROGUE TO RUIN (Ainsley & Reed's story)!
I just love the colors. And that dress… I NEED that dress!  I mean, you just never know when you'll need to drape yourself across a silk-covered chaise lounge, right? 🙂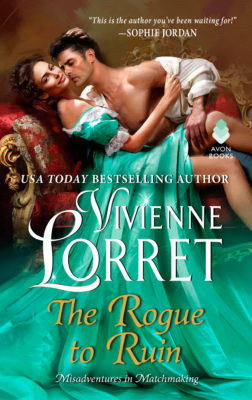 The Bourne Matrimonial Agency has one rule: Never fall in love with a client, which shouldn't be a problem when one's faking an engagement to the rogue across the street . . .
Ainsley Bourne needs the family business to succeed. But one obstacle stands in her way—Reed Sterling, the huge, handsome, former prize fighter and owner of the gaming hell across the street. His scandalous customers scare off all her marriage-minded patrons and since the devilish brute has no intention of relocating, she sets out to ruin his unsavory establishment. Yet when a vile suitor from her past reappears, Ainsley hastily claims an attachment to the first man who comes to mind . . . Mr. Sterling, to be exact.
Reed doesn't know who is more surprised by Miss Bourne's declaration. She clearly hates him, and he'd never admit their arguments simmer with unrequited attraction. Something about the pleading look in her eyes calls to Reed, and against his better judgment, he quickly plays the part of the besotted fiancé.
Pretending to be in love requires a convincing charade. But with each tantalizing touch and every scandalous kiss, Ainsley starts to wonder if Reed was ever really the enemy at all.
THE ROGUE TO RUIN will be available July 30, 2019
Warm wishes and happy reading,
Viv
Nov 21, 2018 | Uncategorized
Wishing you and yours a happy and healthy Thanksgiving. <3