Archive for January, 2019
Jan 19, 2019 | Uncategorized
TEN KISSES TO SCANDAL is almost a month old! Can you believe it?
Sharing Briar and Nicholas's story with you has been a wonderful joy and a dream come true. And I want to send a special thank you to everyone who gave this book a chance, and also to those who took the time to offer a review. Sending much love your way! <3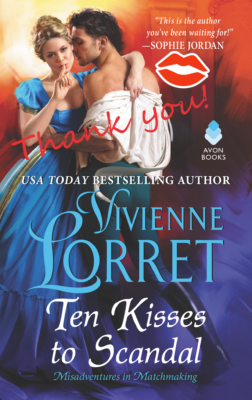 Warm wishes and happy reading,
Viv
Jan 1, 2019 | Uncategorized
Happy New Year!
My wish for 2019 is that each of you have more moments that make you smile. More "fluffy towels fresh from the dryer" moments. More "no alarm clock tomorrow so stay up all night reading" moments. More "fuzzy socks and hot cocoa" moments. More "perfect sunset" moments, and more "first snowfall" moments.
May your year be filled with these moments and so many more. <3
Warm wishes and happy reading,