Archive for July, 2019
Jul 30, 2019 | Uncategorized
THE ROGUE TO RUIN is here!!!
At long last, Reed and Ainsley's story is out in the wild! Thank you for sharing this day with me! <3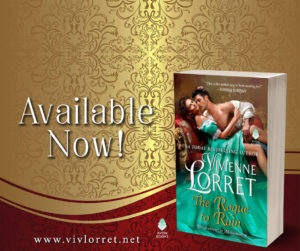 The Bourne Matrimonial Agency has one rule: Never fall in love with a client, which shouldn't be a problem when one's faking an engagement to the rogue across the street . . .
Ainsley Bourne needs the family business to succeed. But one obstacle stands in her way—Reed Sterling, the huge, handsome, former prize fighter and owner of the gaming hell across the street. His scandalous customers scare off all her marriage-minded patrons and since the devilish brute has no intention of relocating, she sets out to ruin his unsavory establishment. Yet when a vile suitor from her past reappears, Ainsley hastily claims an attachment to the first man who comes to mind . . . Mr. Sterling, to be exact.
Reed doesn't know who is more surprised by Miss Bourne's declaration. She clearly hates him, and he'd never admit their arguments simmer with unrequited attraction. Something about the pleading look in her eyes calls to Reed, and against his better judgment, he quickly plays the part of the besotted fiancé.
Pretending to be in love requires a convincing charade. But with each tantalizing touch and every scandalous kiss, Ainsley starts to wonder if Reed was ever really the enemy at all.
Links:
Amazon: https://amzn.to/2W9sf0B
Avon: http://bit.ly/2Fpmw1l
GooglePlay: http://bit.ly/2Cu6Vvw
iBooks: https://apple.co/2Tlaz06
Kobo: http://bit.ly/2TYycjr
~
Warm wishes and happy reading,
Viv
Jul 16, 2019 | Uncategorized
New this week:
A cover reveal on Goodreads for LORD HOLT TAKES A BRIDE (aka the book I need to finish writing asap)! 🙂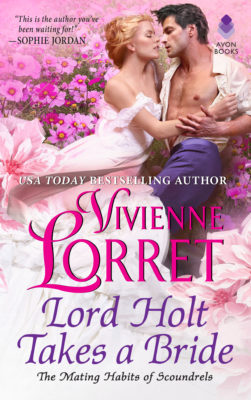 USA Today bestselling author Vivienne Lorret launches a charming new trilogy about three debutantes who get more than they bargained for when it comes to the mating habits of scoundrels . . .
Heiress Winnifred Humphries refuses to marry the odious man her parents have chosen. She'll marry for love or not at all. But how does a woman know a man truly loves her? Needing answers, she sets out to discover the marriage habits of London's aristocrats. Yet when her friends kidnap a lord for research, Winn knows they've gone too far. Now she's facing a wickedly handsome scoundrel who wants revenge.
Lord Asher Holt has the perfect plan to free himself of his father's debts. But when a trio of foolish debutantes abducts him, their scheme ruins everything! Fuming and tied to a chair, Holt overhears that one of them is an heiress. Perhaps he isn't above a little kidnapping either.
Yet, when the heiress runs away from her own wedding and straight into his waiting carriage, Holt finds himself on an adventure he'll never forget, falling in love with a woman worth more than any treasure. But will Winn ever believe his heart only desires her . . . and not her fortune?
Jul 13, 2019 | Uncategorized
EXCITING NEWS: I'm sending out an EXCLUSIVE COVER REVEAL of LORD HOLT TAKES A BRIDE to all my newsletter followers Sunday, July 14th!
There's still time to sign up at /vivlorret.net/contact/   Just look for the newsletter "sign up" at the bottom right of the page and enter your email address to subscribe.
I'll also be hosting a mega-giveaway for all my newsletter subscribers to celebrate the release of THE ROGUE TO RUIN at the end of the month.
More news to come!
Warm wishes and happy reading,
Viv