Archive for March, 2020
Mar 31, 2020 | Uncategorized
LORD HOLT TAKES A BRIDE is here at last!
I'm thrilled to share this Historical Romantic Comedy with you. I had so much fun writing Asher and Winn's story, and it is my sincerest wish that it will give you a smile or two. 
Warm wishes and happy reading,
Viv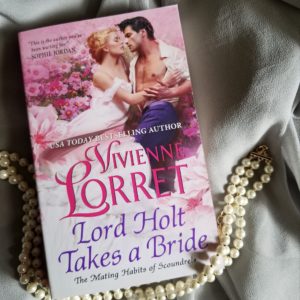 USA Today bestselling author Vivienne Lorret launches a charming new trilogy about three debutantes who get more than they bargained for when it comes to the mating habits of scoundrels…
Heiress Winnifred Humphries refuses to marry the odious man her parents have chosen. She'll marry for love or not at all. But how does a woman know a man truly loves her? Needing answers, she sets out to discover the marriage habits of London's aristocrats. Yet when her friends kidnap a lord for research, Winn knows they've gone too far. Now she's facing a wickedly handsome scoundrel who wants revenge.
Lord Asher Holt has the perfect plan to free himself of his father's debts. But when a trio of foolish debutantes abduct him, their scheme ruins everything! Fuming and tied to a chair, Holt overhears that one of them is an heiress. Perhaps he isn't above a little kidnapping either.
Yet, when the heiress runs away from her own wedding and straight into his waiting carriage, Holt finds himself on an adventure he'll never forget, falling in love with a woman worth more than any treasure. But will Winn ever believe his heart only desires her… and not her fortune?
links:
AMAZON: https://amzn.to/2tFiWg3
Apple Books: https://apple.co/2Mi0zUK
AVON: http://bit.ly/2QcNTzY
Google Play: http://bit.ly/2ECbJzy
Kobo: http://bit.ly/2Q45ee8
Mar 17, 2020 | Uncategorized
I'm hosting a DAILY e-GIVEAWAY on my Facebook page for the next two weeks, leading up to the release of LORD HOLT TAKES A BRIDE.
Why, you ask?
Because I want to celebrate all the hand-washing-hermits out there, all the people checking in on their elderly neighbors, all the moms and dads working from home, and all the lovely human beings who are simply doing their best to smile.
It's called the "LORD HOLT TAKES A BRIDE (after he washes his hands) GIVEAWAY!"
*The prize: an e-copy from Amazon of that day's title sent to the winner's email address.
*To enter, simply leave a comment below that day's post. I'll choose ONE winner at random each night at 7 p.m. (EST) and update the post with that person's name (and please "like" my page so the notification works).
*Oh, and btw, Facebook is not responsible for this giveaway at all, and neither is Amazon.
Please visit my Facebook page to enter: https://www.facebook.com/vivienne.lorret
Warm wishes and happy reading,
Viv
Mar 5, 2020 | Uncategorized
Dear Readers,
I'm absolutely ecstatic to share the news that LORD HOLT TAKES A BRIDE has earned a starred review from Library Journal!!!
Lorret, Vivienne. Lord Holt Takes a Bride. Avon. (Mating Habits of Scoundrels, Bk. 1). Apr. 2020. 384p. ISBN 9780062976598. pap. $7.99. HISTORICAL ROMANCE
Proving that one can never take a romance title too literally, the eponymous hero, Lord Holt, does indeed take a bride—straight from the church where she is set to marry another man. Technically, Winnifred Humphries has already made up her mind not to marry the odious Mr. Woodbine, but she wasn't expecting the dashing Asher, Lord Holt, to be the man in her getaway carriage. Asher plans to ransom the headstrong heiress to get back the money her friends stole during his recent (accidental) kidnapping, when they tried to interview him for their guidebook, The Mating Habits of Scoundrels. Things go sideways for Winn and Asher when they're shot at by thugs, and they're soon on the run in the country, dodging thieves, thunderstorms, and suspicious farmers with pitchforks. Along the way, Winn starts to feel desirable for the first time, overcoming a lifetime of criticism about her weight, and Asher slowly realizes that some things are more valuable than money. VERDICT A rollicking Regency road trip with plenty of heat. Fans of Lorret (The Rogue To Ruin) will devour; new readers will want more.—Kathryn Howe, Saint John Free P.L., NB
I can't wait to share Winn and Asher's story with you (less than 4 weeks to go)! 🙂
Until then…
Warm wishes and happy reading,
Viv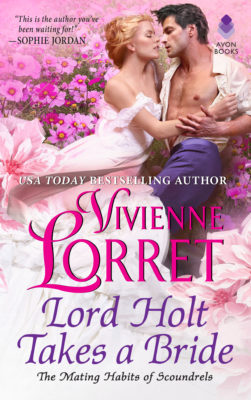 LORD HOLT TAKES A BRIDE, on sale March 31, 2020
Pre-Order Links:
AMAZON: https://amzn.to/2tFiWg3
Apple Books: https://apple.co/2Mi0zUK
AVON: http://bit.ly/2QcNTzY
Google Play: http://bit.ly/2ECbJzy
Kobo: http://bit.ly/2Q45ee8