May 10, 2017 | Uncategorized
Without further ado, I give you the cover for JUST ANOTHER VISCOUNT IN LOVE!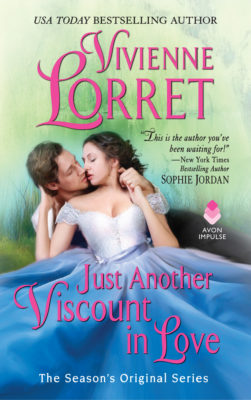 Comments
9 Responses | TrackBack URL | Comments Feed
Pretty much how I pictured Gemma!exciting day for you!

Thank you, Janice! A very exciting day, indeed! <3

Oh! It's so lovely! Sigh….

Your covers are always the prettiest. I love the soft colors!

I love the colors, too (and her dress, especially). I give all the credit to the amazing team of people in the Avon art department. <3

Absolutely STUNNING!! I love her blue dress which blends beautifully with the lush green background, so perfect for summertime which is right around the corner! I can't wait for release day!! 🙂 Congrats to you and the cover designers!

Thank you, Janet! The colors are spectacular, and the cover fits in so well with the book that it feels like the Avon art department's team lives inside my head. 😉 I'll post a pond-scene snippet online in the coming weeks!

Pre-ordered for my Kindle!