CONGRATULATIONS to Dee, Cali, and Ellen, the winners of the ALL I WANT FOR CHRISTMAS IS A DUKE Newsletter Giveaway!!!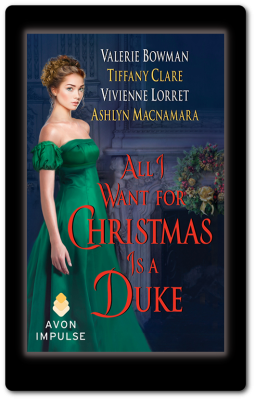 It's the perfect time of year to relax and cozy-up with a romance, or two–or four in this case. ALL I WANT FOR CHRISTMAS IS A DUKE has four duke-inspired Christmas novellas in one book. That's a lot of holiday love!
I'm blessed to be among such talented authors–Valerie Bowman, Tiffany Clare, and Ashlyn Macnamara. I can't wait to share our stories with you!
And if you'd like to subscribe to my newsletter, just enter your email address in the Newsletter box at the bottom of the page.
… and I just might be hosting another giveaway before Christmas. 😉
Warm wishes and happy reading,
Viv
Comments are closed.