Archive for July, 2016
Jul 29, 2016 | Uncategorized
My latest newsletter is being sent out this Sunday with GIVEAWAY information inside. I wanted to let you know in advance because there is still time to sign up. Check out the bottom right of my website, click in the sign-up box, and add your email address. Easy-peasy. 🙂
Until then, have a great weekend!
Viv
Jul 26, 2016 | Uncategorized
THIS EARL IS ON FIRE comes out in 1 week!!!
In the upcoming days, I'll be posting excerpts and hosting random giveaways, so be sure to check back! Until then, here is a glimpse into Liam and Adeline's story: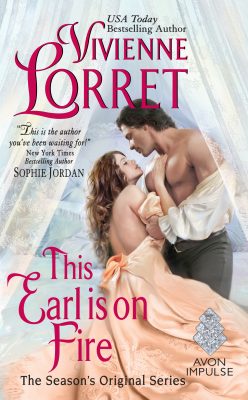 The sheltered daughter of a country baron, Miss Adeline Pimm comes to London looking for adventure… and finds it in the form of a bloody, unconscious man slumped in the doorway of her family's rented townhouse. Though his identity is a mystery, Adeline is inexplicably drawn to the handsome, injured man and vows to nurse him back to health.
Liam Cavanaugh, the scandalous Earl of Wolford, is startled when he awakens in an unfamiliar bed, wrapped in bandages that hinder his eyesight, with no memory of why he was beaten half to death. Although he can't see the witty young woman who tends to his wounds, her alluring voice—and a single stolen kiss from her soft lips—helps soothe his pain. But when he is fully healed, Liam is not ready to let go of the one woman who stirs his deepest longings.
Liam will do whatever it takes to see Adeline again, even if it means giving up his rakish ways. But his disreputable past is not so easily forgotten and his secrets are far more dangerous than he—or Adeline—ever imagined.
AMAZON    AVON    BARNES&NOBLE    GOOGLE PLAY    iBOOKS
Excerpt from THIS EARL IS ON FIRE:
"Your swelling has diminished completely," she said, feeling a strange fluttering in the pit of her stomach. Then she gripped the key tightly as if it were her life's purpose. "Your flesh is somewhat bruised, however, and purplish in places. When you arrived, we weren't even able to see that you had eyes."
"And now that you are able?" There was an edge of mockery to his tone and—yes—to his lips too. Now there were appealing fissures on both sides of his mouth.
"Are you seeking a compliment? I had not taken you for a vain peacock," she chided, feeling comfortable enough to tease him in return. Yet, that quickly altered when he reached up and closed his hand over hers.
He tugged her closer. "Your expression reveals little. And there are no mirrors nearby to show me whether I am merely bruised or disfigured. That pretty blush upon your cheeks could be because you are here in your nightdress and shy about it, not necessarily because you think I am handsome."
Were all the gentlemen in London this bold? She held her breath, trying not to move and wanting to absorb every sensation caused by her hand in his grasp. Her skin rejoiced, sending shivers of warmth through her like sparks from flint and steel. His thumb swept back and forth over the mound of her thumb. Then his fingers curled casually as if touches such as these were commonplace. At least, for him…
"I like the look of you," she confessed, holding his gaze. A man who'd suffered such a beating deserved that, at least.
<3
Jul 22, 2016 | Uncategorized
It's here!!! The long anticipated cover for WHEN A MARQUESS LOVES A WOMAN (available Oct. 4, 2016)!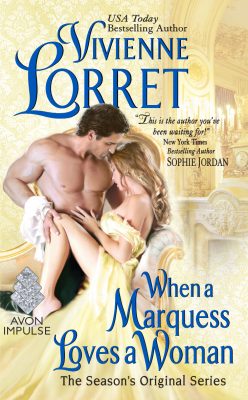 As a young, penniless gentleman, Maxwell Harwick knew he had little to offer Juliet White—the most beautiful debutante of the season—except his love, and one thoroughly scandalous kiss. But when they were discovered in a compromising position, a nearly ruined Juliet fled into the arms of a rich, older lord… taking Max's heart with her.
Now a widow, Lady Juliet Granworth intends to use the fortune she inherited from her odious husband to build a new life in London. Five years have passed, but she's never forgotten Max… or his soul-searing kiss. Yet it's clear the newly-minted Marquess of Thayne has not forgiven her—after all, the infuriating man can barely stand the sight of her. But Juliet has endured far too much to give up without a fight and if it's a battle of wills he wants, it's a battle he'll get.
He hates her for breaking his heart. She detests him for destroying her future. But beneath all the loathing simmers an intoxicating passion that neither can ignore… and the harder they resist, the harder they will inevitably fall.
AMAZON     AVON    BARNES&NOBLE    GOOGLE PLAY    iBOOKS
WHEN A MARQUESS LOVES A WOMAN Excerpt:
Some days Juliet wanted to fling open the nearest window sash and scream.
And it was all Max's fault.
"Good evening, Saunders." A familiar baritone called from the foyer and drifted in through the open parlor door. Max.
Drat it all! He was a veritable devil. Only she didn't have to speak his name, but simply think it for him to appear. She should have known better than to allow her thoughts to roam without a leash to tug them back to heel.
"I did not realize Lord Thayne would be attending dinner this evening," Zinnia said, her spine rigid as she perched on the edge of her cushion and darted a quick, concerned glance toward Juliet.
Marjorie looked to the open door, her brows knitted. "I did not realize it either. He said that he was attending—"
"Lord Fernwold's," Max supplied as he strode into the room, his dark blue coat parting to reveal a gray waistcoat and fitted blue trousers. He paused long enough to bow his dark head in greeting—at least to his mother and Zinnia. To Juliet, he offered no more than perfunctory scrutiny before heading to the sideboard where a collection of crystal decanters waited. "The guests were turned away at the door. His lordship's mother is suffering a fever."
Juliet felt the flesh of her eyelids pucker slightly, her lashes drawing together. It was as close as she could come to glaring at him while still leaving her countenance unmoved. The last thing she wanted was for him, or anyone, to know how much his slight bothered her.
Marjorie tutted. "Again? Agnes seemed quite hale this afternoon in the park. Suspiciously, this has happened thrice before on the evenings of her daughter-in-law's parties. I tell you, Max, I would never do such a thing to your bride."
Max turned and ambled toward them, the stems of three sherry glasses in one large hand, and a whiskey in the other. He stopped at the settee first, offering one to his mother and another to Zinnia. "Nor would you need to, for I would never marry a woman who would tolerate the manipulation." Then he moved around the table and extended a glass to Juliet, lowering his voice as he made one final comment. "Nor one whose slippers trod only the easiest path."
She scoffed. If marriage to Lord Granworth had been easy, then she would hate to know the alternative.
"I would not care for sherry this evening," Juliet said. And in retaliation against Max's rudeness, she reached out and curled her fingers around his whiskey.
Their fingers collided before she slipped the glass free. If she hadn't taken him off guard, he might have held fast. As it was, he opened his hand instantly as if scalded by her touch. But she knew that wasn't true because the heat of his skin nearly blistered her. The shock of it left the underside of her fingers prickly and somewhat raw.
To soothe it, she swirled the cool, golden liquor in the glass. Then, before lifting it to her lips, she met his gaze. His irises were a mixture of earthy brown and cloud gray. Years ago, those eyes were friendly and welcoming, but now had turned cold, like puddles reflecting a winter sky. And because it pleased her to think of his eyes as mud puddles, that was what she thought of when she took a sip. Unfortunately, she didn't particularly care for whiskey, and fought to hide a shudder as the sour liquid coated her tongue.
Max mocked her with a salute of his dainty goblet and tossed back the sherry in one swallow. Then the corner of his mouth flicked up in a smirk.
She knew that mouth intimately—the firm warm pressure of those lips, the exciting scrape of his teeth, the mesmeric skill of his tongue…
Unbidden warmth simmered beneath her skin as she recalled the kiss that had ruined her life.
Jul 21, 2016 | Uncategorized
Join me at Buried Under Romance tomorrow for the big cover reveal for WHEN A MARQUESS LOVES A WOMAN. 
Not only that, but there will be an exclusive sneak peek of Max and Juliet's story, AND one winner will be drawn for an ebook giveaway of THE DEBUTANTE IS MINE. So exciting!!!

Jul 20, 2016 | Uncategorized
It's almost here!!!
On Friday, join me at Buried Under Romance for the cover reveal for WHEN A MARQUESS LOVES A WOMAN, plus an exclusive story sneak peek!
Jul 19, 2016 | Uncategorized
THIS EARL IS ON FIRE comes out in 2 weeks!!!! And… GREAT NEWS… there's still time to pre-order your very own copy. 😉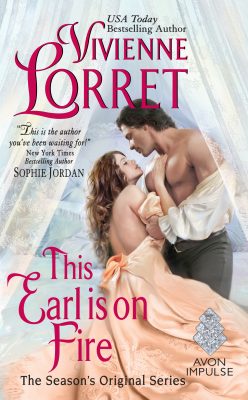 Jul 18, 2016 | Uncategorized
After submitting the epilogue for WHEN A MARQUESS LOVES A WOMAN, it's official. I have written 11 titles for Avon Impulse/Avon Romance!!! Wow!!!
I feel so blessed. Thank you, to all of you who've made this dream possible. <3
Warmest wishes and happy reading,
Viv
Jul 15, 2016 | Uncategorized
Edits done!
WHEN A MARQUESS LOVES A WOMAN is now in the hands of my editor (aside from the epilogue that I'll write this weekend). I'm so excited about Max and Juliet's story and I feel blessed that I get to share it with you in October. Yay! <3
But right now… I need a nap.
Jul 3, 2016 | Uncategorized