THIS EARL IS ON FIRE comes out in 1 week!!!
In the upcoming days, I'll be posting excerpts and hosting random giveaways, so be sure to check back! Until then, here is a glimpse into Liam and Adeline's story: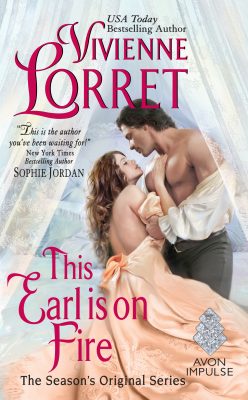 The sheltered daughter of a country baron, Miss Adeline Pimm comes to London looking for adventure… and finds it in the form of a bloody, unconscious man slumped in the doorway of her family's rented townhouse. Though his identity is a mystery, Adeline is inexplicably drawn to the handsome, injured man and vows to nurse him back to health.
Liam Cavanaugh, the scandalous Earl of Wolford, is startled when he awakens in an unfamiliar bed, wrapped in bandages that hinder his eyesight, with no memory of why he was beaten half to death. Although he can't see the witty young woman who tends to his wounds, her alluring voice—and a single stolen kiss from her soft lips—helps soothe his pain. But when he is fully healed, Liam is not ready to let go of the one woman who stirs his deepest longings.
Liam will do whatever it takes to see Adeline again, even if it means giving up his rakish ways. But his disreputable past is not so easily forgotten and his secrets are far more dangerous than he—or Adeline—ever imagined.
AMAZON    AVON    BARNES&NOBLE    GOOGLE PLAY    iBOOKS
Excerpt from THIS EARL IS ON FIRE:
"Your swelling has diminished completely," she said, feeling a strange fluttering in the pit of her stomach. Then she gripped the key tightly as if it were her life's purpose. "Your flesh is somewhat bruised, however, and purplish in places. When you arrived, we weren't even able to see that you had eyes."
"And now that you are able?" There was an edge of mockery to his tone and—yes—to his lips too. Now there were appealing fissures on both sides of his mouth.
"Are you seeking a compliment? I had not taken you for a vain peacock," she chided, feeling comfortable enough to tease him in return. Yet, that quickly altered when he reached up and closed his hand over hers.
He tugged her closer. "Your expression reveals little. And there are no mirrors nearby to show me whether I am merely bruised or disfigured. That pretty blush upon your cheeks could be because you are here in your nightdress and shy about it, not necessarily because you think I am handsome."
Were all the gentlemen in London this bold? She held her breath, trying not to move and wanting to absorb every sensation caused by her hand in his grasp. Her skin rejoiced, sending shivers of warmth through her like sparks from flint and steel. His thumb swept back and forth over the mound of her thumb. Then his fingers curled casually as if touches such as these were commonplace. At least, for him…
"I like the look of you," she confessed, holding his gaze. A man who'd suffered such a beating deserved that, at least.
<3
Comments are closed.