Archive for August, 2016
Aug 30, 2016 | Uncategorized
My Starbucks hired a new barista named Delaney. Secretly, I wanted her to write her own name on my cup. But then I would have had to order another tea for myself, then explain that I was bringing the first one home for a fictional character and… that might have seemed a tad crazy. 😉
Delaney McFarland is on the hunt for a husband—preferably one who needs her embarrassingly large dowry more than a dutiful wife. After the unspeakable incident at her debut, Delaney knows marrying for love is off the table, but a marriage of convenience—one that leaves her free to live the life she chooses—is the next best thing, never mind what that arrogant, devilishly handsome Mr. Croft thinks. Delaney plans to marry for money … or not at all.
Ever since the fiery redhead burst into his life—in a most memorable way—Griffin Croft hasn't been able to get Miss McFarland out of his mind. Now, with the maddening woman determined to hand over her fortune to a rake, Griffin knows he must step in. He must help her. He must not kiss her. But when Griffin's noble intentions flee in a moment of unexpected passion, his true course becomes clear: tame Delaney's wild heart and save her from a fate worse than death … a life without love.
FINDING MISS McFARLAND (book 3 of the Wallflower Wedding Series, available now)
Aug 22, 2016 | Uncategorized
THE DEBUTANTE IS MINE has been having a stellar 99-cent-sale. Thank you to everyone who chose to give Jack and Lilah a chance! <3 
And in other news… I'm working hard on a new proposal, friends! So exciting! Post-its are all over my house, crammed with illegible scribbles in black and red ink. It's still too soon to say if the lines they hold are works of brilliance or madness. So, I'll have to keep you posted.  😉
Have a great week!
Aug 19, 2016 | Uncategorized
THE DEBUTANTE IS MINE is a BookBub deal (and a steal at only 99 cents) this week! It's the perfect time to read the first book in The Season's Original Series!
For more great deals, follow my author page on BookBub.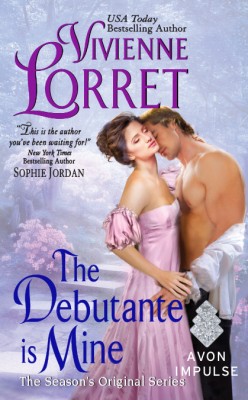 Aug 15, 2016 | Uncategorized
I'm thrilled to announce that (for a limited time) THE DEBUTANTE IS MINE is only 99 cents at most e-retailers!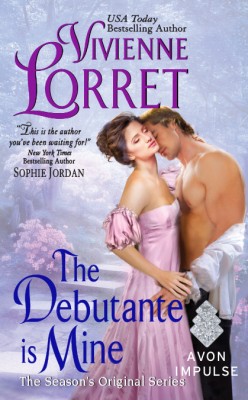 Lilah Appleton's prospects are looking dim. With one last chance to find a titled husband before she's forced to wed her wretched cousin, she must make this Season count. Plain, forgettable Lilah must become the Season's Original. Desperate, she seeks help from the devilishly charming, untitled, and thoroughly unsuitable Jack Marlowe. All she must do now is resist the tempting rogue…
Bastard son and self-made man, Jack Marlowe loathes the aristocracy. When he meets Lilah, he expects her to be like all the other greedy husband-hunters. But she's far more dangerous. Her alluring smiles and sharp tongue intrigue him. Before he knows it, he agrees to help her find a husband, revealing tricks to ensnare any man. The only problem is, his plan works too well—on him.
When Lilah becomes the belle of the ball, Jack realizes he may lose her forever—unless he can take a chance on love and claim his debutante…
AMAZON     AVON     Barnes&Noble     GooglePlay     iBooks
For up-to-the-minute-deals on my books, sign up for my newsletter, and follow me on BookBub. Also this week, the sale will be featured in the Buy A Historical newsletter.
Warm wishes and happy reading,
Viv
Aug 8, 2016 | Uncategorized
Thanks again to everyone who posted the names for potential heroes during last week's contest! Searching and sifting through all those delicious images definitely started turning the wheels of inspiration for new books. <3
This week, I'll be showcasing those "heroes" on my Facebook page.
Not only that, but the Tasty Book Tour for THIS EARL IS ON FIRE continues this week as well. Each day, you'll have multiple chances to enter to win a paperback edition of THE DEBUTANTE IS MINE (book #1, The Season's Original).
The tour stops: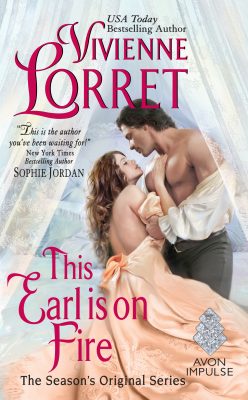 Aug 8th- What I'm Reading– Rev/Exc
(Stop 2) – Paper Cuts– Rev/Exc
(Stop 3) – The Romance Dish– P/Exc
(Stop 4) – Dena Garson-Real… Hot… Romance – Exc
(Stop 5) – underneath the covers – Exc
Aug 9th- WTF Are You Reading?– Rev/Exc
(Stop 2) – Diana's Book Reviews – Rev/Exc
(Stop 3) – Ellesea Loves Reading– P/Exc
(Stop 4) – deal sharing aunt – Promo
(Stop 5) – Happy Ever After Book Reviews– Rev/Exc
Aug 10th- The Travelogue of a book addict – The Book Drealms – Rev/P
(Stop 2) – Read More Sleep Less Blog – Rev/P
(Stop 3) – What the Cat Read- Rev/Exc
(Stop 4) – Penny Dreadful Book Reviews – Rev/Exc
(Stop 5) – Romantic Historical Reviews – Rev/Exc
(Stop 6) – Ramblings from a Chaotic Mind – Rev/Exc
Aug 11th- A Bluestocking's Place– Promo
(Stop 2) – SOS Aloha– Promo
(Stop 3) – I Heart Romance & YA – Rev/P
(Stop 4) – Joyfully Reviewed – Exc
(Stop 5) – Will Read for Feels – Rev
(Stop 6) – Nicole's Book Musings – P/Exc
Aug 12th- The Reading Wench– Rev/Exc
(Stop 2) – Dog-Eared Daydreams– Rev/Exc
(Stop 3) – Lush Book Reviews– Rev/P
(Stop 4) – Teatime & Books– Rev/Exc
(Stop 5) – Alpha Book Club – Exc
(Stop 6) – Forget the Housework, I'm Reading… – Rev/P
Have a great week!
Viv
Aug 5, 2016 | Uncategorized
Thank you to everyone who celebrated with me this week! <3 Releasing THIS EARL IS ON FIRE has been so much fun!
And after your wonderful suggestions, I have a huge list of enticing heroes to post on Facebook next week!
On the list:
Alex O'Loughlin
Josh Bowman
Gerard Butler (of course) 😉
Sean Connery
Colin Firth
Richard Armitage (that voice! *swoon*)
Jeffrey Dean Morgan
Josh Hartnet
Viggo Mortensen
Michael Fassbender
Aiden Turner
Chris Evans
Rupert Penry-Jones (Captain Wentworth! <3)
Scott Eastwood
Josh Kelly
Finding the perfect pics to post of each man listed above will be a difficult task, requiring hours and hours of ogling (and maybe some drooling)… but somehow I'll persevere. 😉
Have a wonderful weekend!
Warm wishes and happy reading,
Viv
Aug 4, 2016 | Uncategorized
UPDATE: Congratulations to Connie for winning this giveaway!!!
In celebrating the release of THIS EARL IS ON FIRE, I'm hosting a GIVEAWAY for one $25 Amazon gift card!!!

But since there can only be one winner*, I wanted this to be fun for everyone. So, TO ENTER, post (below) the name of an actor or model who would make the PERFECT HERO INSPIRATION for a book. Then all next week, I'll post these "heroes" on Facebook.
*One winner will be randomly chosen tomorrow, Friday, 8/5, and notified via the email address attached to her/his post below.
Thank you for dropping by and good luck!
And as always…
Warm wishes and happy reading,
Viv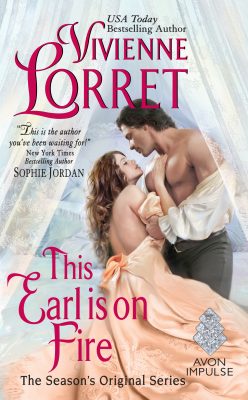 Aug 2, 2016 | Uncategorized
THIS EARL IS ON FIRE is on sale today! I'm so excited to share Liam and Adeline's story with you!
Thank you to all of you who have supported me from the beginning, and thank you to those of you who are just dropping by to see what all the hubbub is about. I feel blessed to have you here with me to share my excitement! <3
THIS EARL IS ON FIRE (book #2, The Season's Original Series):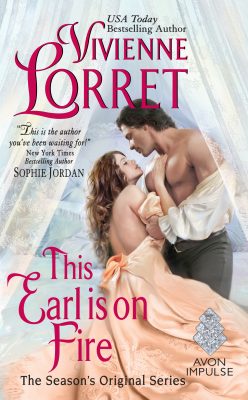 The sheltered daughter of a country baron, Miss Adeline Pimm comes to London looking for adventure… and finds it in the form of a bloody, unconscious man slumped in the doorway of her family's rented townhouse. Though his identity is a mystery, Adeline is inexplicably drawn to the handsome, injured man and vows to nurse him back to health.
Liam Cavanaugh, the scandalous Earl of Wolford, is startled when he awakens in an unfamiliar bed, wrapped in bandages that hinder his eyesight, with no memory of why he was beaten half to death. Although he can't see the witty young woman who tends to his wounds, her alluring voice—and a single stolen kiss from her soft lips—helps soothe his pain. But when he is fully healed, Liam is not ready to let go of the one woman who stirs his deepest longings.
Liam will do whatever it takes to see Adeline again, even if it means giving up his rakish ways. But his disreputable past is not so easily forgotten and his secrets are far more dangerous than he—or Adeline—ever imagined.
AMAZON     AVON     BARNES&NOBLE     GooglePlay     iBooks
Warm wishes and happy reading,
Viv
Aug 1, 2016 | Uncategorized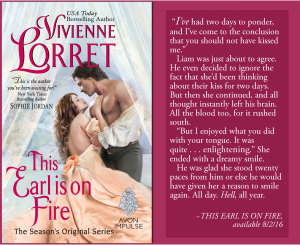 AMAZON     AVON     BARNES&NOBLE     Google Play     iBooks