Archive for September, 2016
Sep 30, 2016 | Uncategorized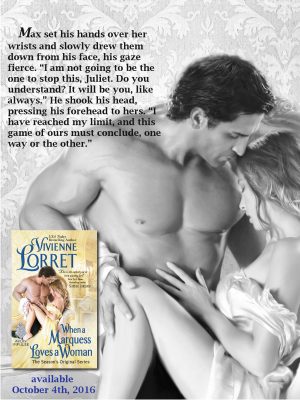 AMAZON     AVON     BARNES&NOBLE     GooglePlay     iBooks     KOBO
Sep 27, 2016 | Uncategorized
Max and Juliet's story is almost here!!! I'm so excited about WHEN A MARQUESS LOVES A WOMAN and can't wait to share it with each of you!
I'll be sending out a newsletter in the next few days with contest info (and it's going to be an awesome prize, too). If you'd like to sign up, the link is located at the bottom of each page of my website.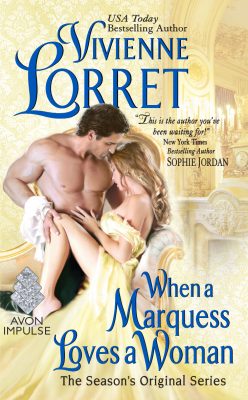 As a young, penniless gentleman, Maxwell Harwick knew he had little to offer Juliet White—the most beautiful debutante of the season—except his love, and one thoroughly scandalous kiss. But when they were discovered in a compromising position, a nearly ruined Juliet fled into the arms of a rich, older lord… taking Max's heart with her.
Now a widow, Lady Juliet Granworth intends to use the fortune she inherited from her odious husband to build a new life in London. Five years have passed, but she's never forgotten Max… or his soul-searing kiss. Yet it's clear the newly-minted Marquess of Thayne has not forgiven her—after all, the infuriating man can barely stand the sight of her. But Juliet has endured far too much to give up without a fight and if it's a battle of wills he wants, it's a battle he'll get.
He hates her for breaking his heart. She detests him for destroying her future. But beneath all the loathing simmers an intoxicating passion that neither can ignore… and the harder they resist, the harder they will inevitably fall.
Pre-Order Links:
Amazon     Avon     Barnes&Noble     GooglePlay     iBooks     Kobo
Warm wishes and happy reading,
Viv
Sep 23, 2016 | Uncategorized
Sometimes the best things happen unexpectedly. Like today, for example, I never expected to find a notification that THE DEVILISH MR. DANVERS received a new review (and what a lovely, heartfelt review it is) from Long and Short Reviews. <3
I'm feeling incredibly blessed and I hope that each of you have a wonderful surprise today, too.
Warm wishes and happy reading,
Viv

The Devilish Mr. Danvers by Vivienne Lorret
Publisher: Avon
Genre: Historical
Length: Full Length (199 pgs)
Heat Level: Spicy
Rating: 4.5 stars
Reviewed by Xeranthemum
For the first time in her life, Hedley Sinclair holds the keys to her own future. She's inherited the crumbling Greyson Park, but the disrepair does nothing to dissuade her. No one will ever lock her up again or attempt to take away what's hers. No one except Rafe Danvers—the charming, fiendish man from Fallow Hall. He's determined to claim Greyson Park, but if Hedley isn't careful, he'll claim her heart as well.
Rafe has every intention of ridding Greyson Park of the conniving Sinclairs once and for all. The last thing he expects is to find the beguiling Hedley—the younger sister of his former fiancée—standing in his way. With drastic measures called for, he plans to marry her off in order to regain control of the estate. The only trouble is, he can't seem to stop seducing her. Even worse, he can't help falling in love with her.
Stubborn, courageous and full of spit and vinegar, that describes my initial impression of the heroine, Hedley. She has an unusual name which had the unfortunate side effect of triggering a Blazing Saddles memory. But once I got to know her, all those silly thoughts disappeared as the cleverness and fortitude she exhibited in dealing with her predicament took center stage. She's a worthy heroine. She's also no match for a determined matchmaking canine.
Poor Rafe, the hero; he has such a thorn in his side, a chip on his shoulder, all from his treatment by the Sinclair family. It's rightly earned, so imagine his surprise, and my delight, that the woman who makes his libido go out of control is a dreaded Sinclair. He is so determined to resist her, except, he can't. The more time he spends with her, the more shocked he becomes, both from what he learns about her and his own reactions. Ms. Lorret truly has written a story that embraces all the most wonderful aspects of romance with Rafe and Hedley as a couple.
This is the second book in the Rakes of Fallow Hall series yet this is a sold standalone read. The overall story arc is the wager between three men. I haven't read the first book in the series and never once did I feel the lack. This is a fun and entertaining novel all on its own.
There's humor, witty and fascinating dialogue, and just the right amount of emotional drama to keep a reader engaged page after page. The seduction scenes between Rafe and Hedley are spicy enough to keep a fan nearby just in case. My absolute favorite extravagant and romantic gesture comes from Rafe, he creates something that is so beautiful and unique that the heroine can't help but believe with all her heart that he truly loves her. It's actually quite swoon-worthy.
The villains of the piece, the external conflict, actually come from Hedley's own family. Wow, did Ms. Lorret create some effective despicable characters! I would have turned into a harridan/banshee on Hedley's behalf. In no way could I have resisted wanting to throttle them for the very act of speaking. Hear me growl.
The Devilish Mr. Danvers should not be missed for readers who enjoy Cinderella themed stories. This one does it justice because this time, the heroine has an active champion to woo and care for her, and through him, others of power who have her back. There are plenty of occasions to cheer for Hedley and Rafe and I encourage historical romance fans to not miss out. Grab a copy and enjoy the ride.
Sep 19, 2016 | Uncategorized
It's here!!! THIS EARL IS ON FIRE is available in paperback today!
I had so much fun writing Liam and Adeline's story. In fact, I've loved writing this entire series!
It all began with the Christmas novella, "The Duke's Christmas Wish," where we first meet Liam (and for those of you who've read it, Liam is the one who saves the day at the end of the novella). 😉
We get to know Liam a bit more in THE DEBUTANTE IS MINE (book #1 of the Season's Original Series), and quickly learn that he's being manipulated by his "friend" Max, who believes he can make Liam the Season's Original.
Then, in THIS EARL IS ON FIRE (book 2 of the Season's Original), we finally have Liam's story (cue Etta James' At Last…) and we also meet his unlikely heroine, the sheltered country miss, Adeline Pimm.
For those of you who've been waiting to add the paperback to your tbr pile, I won't give anything away.
But I will say THANK YOU and…
Warm wishes and happy reading,
Viv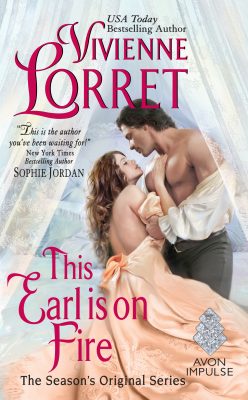 The sheltered daughter of a country baron, Miss Adeline Pimm comes to London looking for adventure… and finds it in the form of a bloody, unconscious man slumped in the doorway of her family's rented townhouse. Though his identity is a mystery, Adeline is inexplicably drawn to the handsome, injured man and vows to nurse him back to health.
Liam Cavanaugh, the scandalous Earl of Wolford, is startled when he awakens in an unfamiliar bed, wrapped in bandages that hinder his eyesight, with no memory of why he was beaten half to death. Although he can't see the witty young woman who tends to his wounds, her alluring voice—and a single stolen kiss from her soft lips—helps soothe his pain. But when he is fully healed, Liam is not ready to let go of the one woman who stirs his deepest longings.
Liam will do whatever it takes to see Adeline again, even if it means giving up his rakish ways. But his disreputable past is not so easily forgotten and his secrets are far more dangerous than he—or Adeline—ever imagined.
AMAZON     AVON     BARNES&NOBLE     BOOKSAMILLION
Sep 17, 2016 | Uncategorized
In a recent interview, I was asked for "one of the most interesting things" I've learned in my historical research. The following answer instantly sprang to mind as being my favorite discovery:
I just love research! Discovering little historical tidbits feeds my inner nerd. I can't begin to tell you how tired my family is of hearing "Guess what I learned today?" So much eye rolling!
But one thing, in particular, I found fascinating came from an 1800s play (the title of which I have presently forgotten). The main character went into a taproom and ordered his food and drink "hot and hot." Instantly, I wondered what that meant. Did he want hot ale, too? Was this a popular figure of speech? Inquiring minds…
I searched online and found nothing. I went to the library database and found nothing. Then I asked my friend and local research librarian, but she didn't know either. She came up with the same results that I had. However, she had a secret weapon that I didn't have—connections. She knew a food historian.
This "hot and hot" became such a puzzle for all of us that, after compiling research, the food historian blogged about her findings. So cool!
In the end, she found that asking for your food and drink to come "hot and hot," meant that you wanted everything when it was ready. No waiting. In other words, bring the ale now. And if the broth is done, then bring it to me, as well, while the kitchen prepares my leg o' mutton, aspic and eggs. Um… yum?
Or, to put it in a modern context…  If you make pancakes in a skillet, one by one, then instead of waiting to compile a short stack for your family, you'd serve each steaming flapjack—butter melting, syrup oozing—one at a time, and fork at the ready.
So, the next time you're at IHOP, pound your fist on the table hard enough to jangle the silverware, and tell the server that you want your rasher of bacon, scrambled eggs and each fluffy pancake "hot and hot"… because you're worth it. ; )
Sep 12, 2016 | Uncategorized
All this week, we're revisiting the Wallflower Wedding Series with Tasty Book Tours.
At each stop, you'll have a chance to enter a giveaway (with a prize pack that includes: the Wallflower Wedding books 1-3, author swag, and a canvas tote for my current series–The Season's Original).
I hope you'll join the fun! http://www.tastybooktours.com/2016/08/the-wallflower-wedding-series-by.html 
Also, I want to give a shout-out and a heartfelt THANK YOU to each and every reader who has welcomed Emma & Oliver, Merribeth & Bane, Delaney & Griffin (and every character since) into your heart. <3
Warm wishes and happy reading,
Viv
Sep 5, 2016 | Uncategorized
::UPDATE:: CONGRATULATIONS  to Bube and Santa and thank you to everyone who shared the love! <3
THIS EARL IS ON FIRE (book 2 of the Season's Original Series) will be available in paperback on September 20th! Yay!
But I can't wait to share. So…
I'm giving away 2 advance reader copies!!!
To enter, leave a comment below.
To enter TWICE, leave a comment AND share this post on Facebook.
The 2 winners will be randomly chosen on Friday, September 9th and notified via email.
*each winner will receive 1 paperback of THIS EARL IS ON FIRE, a Season's Original Series canvas tote, and assorted swag.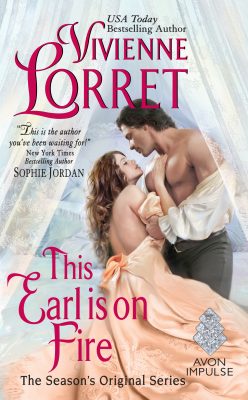 AMAZON     AVON     BARNES&NOBLE     GooglePlay     iBooks     KOBO