Archive for November, 2016
Nov 28, 2016 | Uncategorized
I'll be hosting a HOLIDAY GIVEAWAY for my newsletter subscribers next week!
The prize-pack includes the Season's Original Series (including prequel) and lots of other goodies for one lucky winner.
Sign up is simple and located at the bottom right hand corner of my website: https://vivlorret.net/
Warm wishes and happy reading, 
Viv 
Nov 24, 2016 | Uncategorized
Wishing you a safe and happy holiday filled with the comfort of family and friends.
<3
Viv
Nov 15, 2016 | Uncategorized
WHEN A MARQUESS LOVES A WOMAN is available in paperback today!!!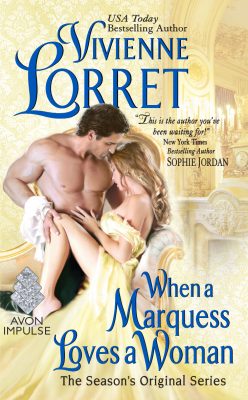 "It's got all my prerequisites for a good Regency romance–loads of sexual tension, a heroine who owns her shit, and epic sass-battles. Also canoodling in libraries. " Smart Bitches, Trashy books
"It will melt your heart." The Romance Dish
"…a wonderfully fun historical romance that will capture the readers attention from page one…" Lisa Filipe, A Tasty Read Book Review
"This is the author at her best. Five-plus stars. ♥" Jen Valencia, Dog-Eared Daydreams
"WHEN A MARQUESS LOVES A WOMAN is a sexy and delightful read…" Roses Are Blue
"When a Marquess Loves a Women is a beautiful book, that is very easy to fall into and never want to leave." Cara's Book Boudoir
"…the passion between these two simmers." I Am Indeed
AMAZON     AVON     B&N     Books-A-Million     IndieBound
Nov 11, 2016 | Uncategorized
Thank you to all who have served and to those who continue to protect us.
Nov 4, 2016 | Uncategorized
😉
Enjoy the extra hour this weekend!
Warm wishes and happy reading,
Viv