WHEN A MARQUESS LOVES A WOMAN is available in paperback today!!!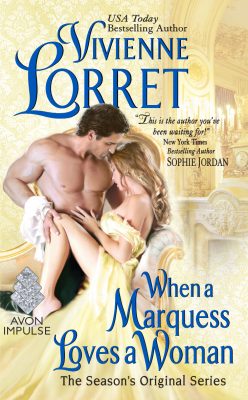 "It's got all my prerequisites for a good Regency romance–loads of sexual tension, a heroine who owns her shit, and epic sass-battles. Also canoodling in libraries. " Smart Bitches, Trashy books
"It will melt your heart." The Romance Dish
"…a wonderfully fun historical romance that will capture the readers attention from page one…" Lisa Filipe, A Tasty Read Book Review
"This is the author at her best. Five-plus stars. ♥" Jen Valencia, Dog-Eared Daydreams
"WHEN A MARQUESS LOVES A WOMAN is a sexy and delightful read…" Roses Are Blue
"When a Marquess Loves a Women is a beautiful book, that is very easy to fall into and never want to leave." Cara's Book Boudoir
"…the passion between these two simmers." I Am Indeed
AMAZON     AVON     B&N     Books-A-Million     IndieBound
Comments are closed.