Happy COVER REVEAL day!
Without further ado, I give you the glorious cover for TEN KISSES TO SCANDAL!
Avon Romance has worked magic again, and Jon Paul Ferrara is a true cover art master! 
What do you think?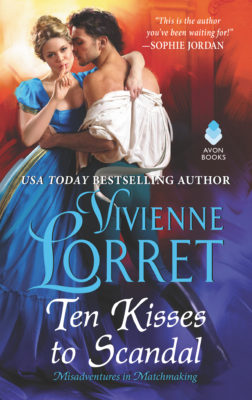 The Bourne Matrimonial Agency has one rule: Never fall in love with the client. However, they never said anything about kissing a rake…
Briar Bourne's matchmaking career could be summed up in two words—comic disaster. Unless she can learn about the irresistible forces that draw men and women together, her professional future looks rather bleak. But Briar has an intriguing plan—enlisting London's most irredeemable rake to teach her everything he knows about attraction. Given his notorious reputation, it's no surprise that Nicholas Blacklowe, the Earl of Edgemont, requests one thing in exchange for his tutelage. For every lesson, he wants a kiss in return. And what harm could there be in a simple kiss? After all, Briar would never fall for a scoundrel…
Nicholas has no romantic notions about love, and no intention of changing his ways. He's only helping Briar so that she can find the perfect bride for his jilted cousin. Yet Briar is so clever, so curious, so candid—so blasted tempting—that soon, Nicholas can't stop wondering what it might be like if he was irresistible to her.
Ten lessons. Ten kisses. And a million ways to fall hopelessly, scandalously in love.
AMAZON: https://amzn.to/2J5w9BQ 
B&N: http://bit.ly/2GAvs5n
iBOOKS: https://apple.co/2Gj8ITT
GooglePlay: http://bit.ly/2E41OjH
Comments are closed.