Archive for August, 2018
Aug 31, 2018 | Uncategorized
Hundreds of thousands of people are about to descend on my little hamlet for what the locals call "Blueberry Weekend." The scents of deep fried everything, the hard thumping sounds of carnival rides, and the ripe frenzy of craft fever will fill the air. Basically an introvert's nightmare.
So why don't I just lock the doors and pull the shades until Tuesday? Two words: elephant ears.
Yup, those dirty, rotten, no good festival coordinators put elephant ears in the middle of the chaos. *sigh*
Nevertheless, I'm wishing each of you a happy (and delicious) Labor Day Weekend!
Warm wishes and happy reading,
Viv
Aug 6, 2018 | Uncategorized
It's never fun for authors to ask for reviews but it's part of the process. The truth is, reviews give us opportunities to share more books with readers in the future.
So, if you would like to leave an honest review for HOW TO FORGET A DUKE that would be wonderful. <3
Warm wishes and happy reading,
Viv
Aug 1, 2018 | Uncategorized
The page proofs are off!
I finished the final read-through of TEN KISSES TO SCANDAL and sent the galleys to my editor. This is so exciting! To celebrate, I'm sharing another snippet of Nicholas and Briar's story (because it's so hard for me to wait until December).
Warm wishes and happy reading,
Viv
TEN KISSES TO SCANDAL:
"Come away from the door, Briar, and kiss me."
The sinful timbre of his voice tumbled through her, stealing her breath. Her curiosity reached an anxious simmer, brewing hot and frantic beneath her skin. 
(available this December 💋)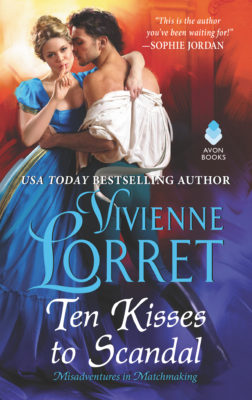 AMAZON: https://amzn.to/2J5w9BQ AVON: http://bit.ly/2MaVZFE B&N: http://bit.ly/2GAvs5n 
iBOOKS: https://apple.co/2Gj8ITT