**UPDATE** Congratulations to Luz for winning the Mug Giveaway! And thank you to everyone for sharing my excitement over TEN KISSES TO SCANDAL! <3
It's a lovely morning in my corner of the world. Rain is making music on bright autumn leaves and the sky is a blanket of soft dove gray. In other words, it's the perfect day for a giveaway!
Up for grabs is: a goody bag filled with a "warm wishes and happy reading" mug; a hot chocolate on a spoon (from a specialty chocolate shop near me); gourmet marshmallows; and a signed, sneak preview booklet of TEN KISSES TO SCANDAL.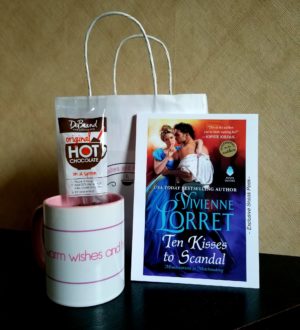 The winner will get the chance to read the first three chapters of TEN KISSES TO SCANDAL before it comes out on December 24th, while sipping hot chocolate and lounging in her or his favorite chair. Sound good?
To enter: comment in the thread beneath this GIVEAWAY post and let me know, on a scale of one to TEN *cough* how excited you are for the release of TEN KISSES TO SCANDAL on December 24th.
It's that simple. 🙂
I'll choose one winner next Saturday, November 3rd. Best of luck!
Warm wishes and happy reading,
Viv