**Fan Appreciation Mega Giveaway **
To express my heartfelt gratitude for the wonderful reviews and reception that you've given THE ROGUE TO RUIN, I'm hosting a mega giveaway to all my newsletter subscribers!
Up for grabs for one winner:
1. The entire Misadventures in Matchmaking series
2. A copy of Jane Austen's EMMA
3. A pink BABE canvas tote
4. A "warm wishes and happy reading" mug
5. An assortment of bookmarks and swag
I'll post the winner's name in the newsletter this Sunday, August 18th. Best of luck to everyone!
🤗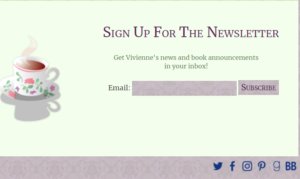 Warm wishes and happy reading,
Viv
Comments are closed.