Exciting news!
TEN KISSES TO SCANDAL will go on sale for only $1.99 for the first part of June. The sale price begins tomorrow. So, if you haven't had the chance to read Nicholas and Briar's story… or if you have a friend who could use a little romance in her/his life… then this is the perfect time to download!
As always, I hope you and your loved ones are happy, healthy, and safe. <3 And if you ever need a little bookmark mail, just drop me an email with your request (and mailing address) and I'll be happy to send you the bookmark of your choice. I even have a few for TEN KISSES TO SCANDAL.
Warm wishes and happy reading,
Viv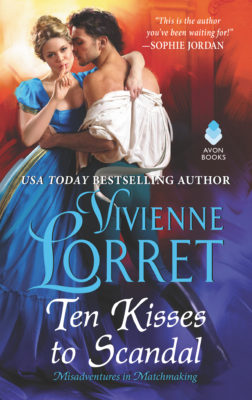 AMAZON: https://amzn.to/2J5w9BQ
AVON: http://bit.ly/2MaVZFE
iBOOKS: https://apple.co/2Gj8ITT
GooglePlay: http://bit.ly/2E41OjH
KOBO: http://bit.ly/2I91OAG
Comments are closed.