Are you ready for a super sexy cover reveal?
Then without further ado (or really any ado at all), I present the cover for NEVER SEDUCE A DUKE. . .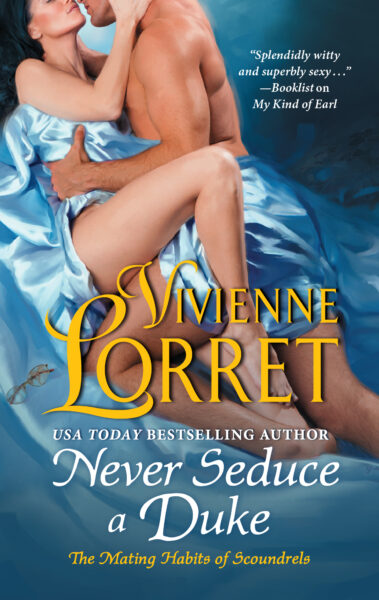 In USA Today bestselling author Vivienne Lorret's latest romance, a young lady engages in a steamy flirtation with a bespectacled, studious duke while on holiday, only to return with more than just memories…  
After being jilted, Margaret Stredwick has sworn off men and marriage. What she needs is a holiday. But a detour along the way takes a surprising turn that leads Meg to him. And soon she starts to wonder if she should indulge in one grand flirtation before she's firmly on the shelf.
The instant Lucien Ambrose, Duke of Merleton, finds a strange woman touring the halls of his ancient estate, he knows the minx is up to something. So, when a family heirloom is stolen, it's clear who the culprit is. She may tempt him beyond reason, but he isn't about to let her get away, even if he has to chase her across the continent.
Meg never imagined that anyone would mistake her for a notorious thief, known for seducing men to distraction. It's the most thrilling thing ever! She eagerly plays along. . . until she finds herself falling in love with a man who has no idea who she really is. And by the time she returns to her ordinary life, she discovers that her grand flirtation won't be a secret for long. Apparently, she brought home an unexpected souvenir…
NEVER SEDUCE A DUKE (available February 21st, 2023)
https://www.harpercollins.com/products/never-seduce-a-duke-vivienne-lorret?variant=40489120170018