Just Another Viscount in Love
The Season's Original Book 4 (a novella)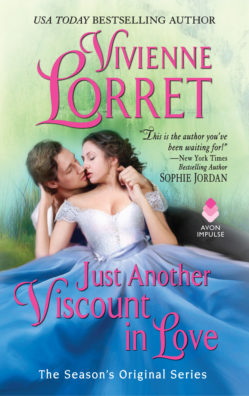 eBook: August 1, 2017
Publisher: Avon Impulse
ISBN: 9780062685612
As the toast of the ton, Samuel Wortham, Viscount Ellery, should have no trouble finding a wife. Yet each lady he pursues ends up married to another. As a last hope, Sam plans a house party, intending to choose a bride from one of his guests. But when he encounters a raven-haired beauty by his estate's pond, he's captivated by her charm and desperate to see her again.
A quiet trip to the country is just what Gemma Desmond needs to take her mind off marriage. After all, as the daughter of a notorious criminal, her prospects seem quite grim. The last thing she expects is a chance meeting with a handsome lord and an invitation to his lavish house party. Ellery is everything she hoped for in a husband. But can she ever escape the stigma of her father's misdeeds?
When a pair of conniving debutantes frame her for theft, Gemma has her answer. Unwilling to let her scandalous reputation taint the kind, honorable man she adores, she flees. Yet Ellery isn't about to give her up. He might be just another viscount in love, but he refuses to let this potential bride slip through his fingers…
"From the first paragraph I was hooked." Jaci Tobin, The Reading Wench
"This novella has me squeeing like the fangirl I am of this series AND grinning like a lovesick fool." Jen Valencia, Dog-Eared Daydreams
"... full of romance and warmth, and reading it was pure delight." 5-stars from Rose, Roses Are Blue
"... a short and sweet romance that made me smile and left me feeling fully satisfied and so joyful." 4 stars, Addicted to Romance
"Engaging, heartfelt and smile-inducing..." I am, Indeed
"...a perfect ending that left me smiling!" AnnMarie, Buried Under Romance
" I have found a new historical author to read." Harlie's Books
"Did I mention that I love this book?" am kinda busy reading!!!
Other Books In This Series
Excerpt
"I hope you can forgive me. I did not mean to startle you," the man said, his baritone gliding seamlessly over the water without the need to shout. "I only came to enjoy the lovely view this day has brought to Dunnock Park."
He offered a smile and inclined his head in greeting, the sun gilding the tips of his hair with the movement. He was close enough that she could see the angular shadows that accentuated his cheekbones and the squareness of his jaw. The strict edge of his nose seemed to point down in a straight line to the divot above his broad mouth and to the dimple in his chin. His pale blue eyes were somehow brighter than the late summer sky and seemed to grow warmer as he appraised her in return, his gaze dipping to the water where she stood.
She looked down too and noticed she'd dropped her skirts. They were now sinking like gauzy nets around her calves. Water saturated the fabric, climbing upward, turning her petticoat and dress translucent—all the way to her knees. If she stood here a moment longer, she would have very few secrets from this stranger.
A rush of heat slid through her, and her reflection revealed the slow saturation of red tingeing her cheeks, as if her veins were flooded with Bordeaux and she was a poached pear.
"Then I shall leave the pond for you to enjoy," she said quickly, before any more of her became stained in purplish red.
Carefully, she stepped onto the grassy bank, her dress dripping and plastered to her lower legs. She did her best to squeeze out as much of the water as she could while bending toward her shoes.
"Tell me, fish charmer," he called out before she could slosh away, "would it have been better if I'd been selfish and not alerted you to my presence? At least then I might have learned your secret for luring fish into your grasp."
She stopped and faced him, prickled by the thought of this stranger believing her capable of dishonesty. Even if only to a fish. She'd spent most of her life bearing the weight of her father's many fraudulent schemes, even before society became aware of his deeds. Now that they knew, most of the ton labeled her with the same character. " 'Twas no trick but a truth. The fish knew nothing of my hand, and could form no misgivings unless through deception."
"Ah. You are a philosopher," he mused with a nod, the hint of a dimple lurking near the corner of his mouth. "I should like to hear your wisdom regarding a method to convince a certain pike—which has eluded me for years—that my hook is nothing more than a bit of silver."
Gemma felt her shoulders relax as she realized she'd leapt to conclusions. She reminded herself that she was no longer in the desert with her father and his seedy associates, or even in London, where whispers ruined reputations. In fact, thus far in Surrey, she'd encountered the best of manners and friendliest of dispositions. So it was entirely possible that the gentleman across the pond was as kind and cordial as he appeared to be.
Though only time would tell, and she had no intention of staying around long enough for him to disprove her theory.
"If I were a fish, I should care nothing for silver." She lifted one shoulder in a careless shrug. "You would do better to convince the pike that your hook is a worm in armor and requires a good bite to set it free."
He laughed at that, the sound rich and effortless, like a man accustomed to the practice. Looking across the pond, she witnessed the natural way his smile lifted his cheek, his eyes half-closed in merriment. There was no rakish gleam winking at her, nor a dark and brooding mystery in his features. In fact, his expression was open and unreserved, and he all the handsomer for it.
A whirring sensation spiraled through her in a lopsided fashion, like a winged seed falling from a maple tree. It almost tickled. And now, strangely enough, it seemed ages ago that his presence had startled her.
Not that it mattered. With the state of her clothes, she could hardly spend another moment in his company, regardless of this foreign impulse to linger.
"I wish you the best of luck in your endeavors and bid you good day," she said, detecting the reluctance in her own voice.
He sobered instantly and held out a hand, as if to stay her with an invisible thread. "Surely there are more than enough pleasant sights for us both to enjoy. And should a few words of conversation float in my direction, I would not be averse to casting my own in return."
A grin tugged at her lips, but she bit down on one corner to keep from giving in to it.
"To prove I am in earnest," he continued, "I shall sit upon the ground and keep a proper distance. Do you think your companion on the hill would mind?"
Without hesitation, he draped his coat over the stone and sank down to the grass with the effortless grace of a well-formed man who was comfortable in his own skin. And yet, he was more watchful than relaxed, as if waiting to see if she would choose to stay.
It was quite sweet. She especially liked the fact that he did not try to manipulate her. At least, no more than making it clear that he desired her conversation.
"If my aunt did mind, you would know it in an instant. She is quite formidable with a parasol." Careful with her damp skirts, Gemma sank down on one hip, her legs curled beside her, and spread the muslin out to dry. From the corner of her eye, she saw his posture relax in the way he rested his forearm on his bent knee.
He seemed to belong here, as much a part of this park as the blue and brown thrushes that were contentedly warbling from the grayish branches of a nearby beech. "I can well imagine. I was only a lad when I learned a parasol was more than shade overhead but a wooden sword with shield."
Just then, she could imagine him as a tousle-haired boy, playing the knight, and she was further charmed by him. "In the hands of my aunt, it is also a paper poker, a garden-snake flinger, and—though I shudder to inform you—a wayward bat catcher."
His dark golden brows lifted. "Indeed?"
"Open parlor windows on summer evenings do not solely allow for a cooling breeze but occasionally a chilling flurry of wings as well," she said with a grave nod, the memory still fresh from a month ago. Aunt Edith had been trying to swat the creature when the parasol accidentally opened with a poof. They'd both shrieked with alarm, which was likely what had stunned the flying beast enough to land inside. "My aunt caught the creature and summarily handed the net, as it were, to the butler for release in the wilds of London. By winter, I imagine he'll find his way in through a chimney."
"The butler?"
The ridiculous question took her off guard and a bubbling laugh bounded from her lips before she could think to stop it. "No, the bat. Though I do hope to see Mr. Arnold again someday too."
His smile grew. "A rather extensive catalogue of uses."
"The truth of parasols…