The Debutante Is Mine
The Season's Original Book 1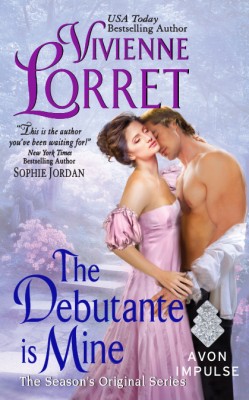 Print: May 3, 2016
eBook: April 12, 2016
Publisher: Avon Impulse
ISBN: 9780062446275
From the Season Standard: "A true Season's Original embodies the class, grace, and style of the ton. Such an honor ensures the recipient her pick of eligible suitors…"
Lilah Appleton's prospects are looking dim. With one last chance to find a titled husband before she's forced to wed her wretched cousin, she must make this Season count. Plain, forgettable Lilah must become the Season's Original. Desperate, she seeks help from the devilishly charming, untitled, and thoroughly unsuitable Jack Marlowe. All she must do now is resist the tempting rogue…
Bastard son and self-made man, Jack Marlowe loathes the aristocracy. When he meets Lilah, he expects her to be like all the other greedy husband-hunters. But she's far more dangerous. Her alluring smiles and sharp tongue intrigue him. Before he knows it, he agrees to help her find a husband, revealing tricks to ensnare any man. The only problem is, his plan works too well—on him.
When Lilah becomes the belle of the ball, Jack realizes he may lose her forever—unless he can take a chance on love and claim his debutante...
"A will and a bet create the drama in the riveting first Season's Original novel...A well-crafted plot, well-developed characters, and last-minute revelations set the bar high for the sequels." Publishers Weekly, starred review
"THE DEBUTANTE IS MINE is deeply romantic and utterly charming... one of the best romances of 2016." Lisa Filipe, A Tasty Read
""The Debutante is Mine" by Vivienne Lorret is engaging, romantic and fun!" Cathy LaPeters, Cat's Reviews
"Read this novel. It is everything that a reader could hope and want out a historical-romance..." Leone, The Bookish and The Romantic
"Wonderful Book, Loved it!!! This is my new favorite by Viv Lorret." Jacquie Tobin, The Reading Wench
"Charming Characters and Wonderful Dialogue Contribute to a Sparkling Debut in THE DEBUTANTE IS MINE" Fresh Fiction
"Historical romance fans, you'll definitely want to give this one a read! It's funny, sweet, and hot. It's going on my favorite shelf!" We So Nerdy
"This outstanding introduction to a new series is highly recommended for Regency romance fans." Library Journal
Other Books In This Series
Excerpt
"That is why honesty is important from the beginning," Jack said, stepping toward her until they were toe-to-toe. His gaze turned soft, as if they shared this understanding, and when he spoke, his voice was low and intimate. "I indulge in pleasure for pleasure's sake alone. I offer no pretense of love, and the women I bed understand this."
"I am not going to be one of those women," she clarified, knowing that she should have been offended that he would mention such a thing. And she was, of course. She was not inordinately curious about what it would be like to . . . indulge in pleasure for pleasure's sake alone. Not at all.
"I'm not suggesting your ruination, Lilah." In the shadowy recesses of his mouth, his tongue flicked over the two syllables of her name as if he knew the flavor of them.
"Then what"—she wet her lips—"are you suggesting?"
"Merely that there must be things you are passionate about—hobbies, outings, certain topics of conversation. Unless . . ." He grinned and raised his eyebrows. "Unless scolding me is the only pleasure in your life. If that is the case, I will gladly continue to pleasure you."