Jan 19, 2019
TEN KISSES TO SCANDAL is almost a month old! Can you believe it?
Sharing Briar and Nicholas's story with you has been a wonderful joy and a dream come true. And I want to send a special thank you to everyone who gave this book a chance, and also to those who took the time to offer a review. Sending much love your way! <3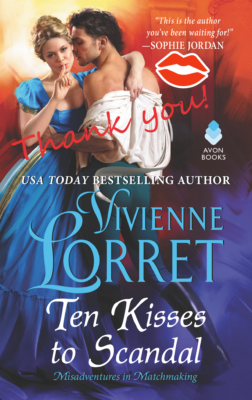 Warm wishes and happy reading,
Viv
Jan 1, 2019
Happy New Year!
My wish for 2019 is that each of you have more moments that make you smile. More "fluffy towels fresh from the dryer" moments. More "no alarm clock tomorrow so stay up all night reading" moments. More "fuzzy socks and hot cocoa" moments. More "perfect sunset" moments, and more "first snowfall" moments.
May your year be filled with these moments and so many more. <3
Warm wishes and happy reading,
Dec 10, 2018
TEN KISSES TO SCANDAL hits shelves in 2 weeks!!!
💋available December 24th💋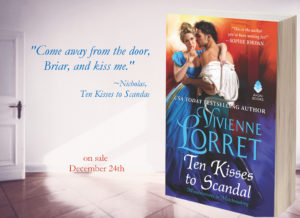 pre-order links:
AMAZON: https://amzn.to/2J5w9BQ
AVON: http://bit.ly/2MaVZFE
Dec 6, 2018
Behold, the new cover for THE ROGUE TO RUIN (Ainsley & Reed's story)!
I just love the colors. And that dress… I NEED that dress!  I mean, you just never know when you'll need to drape yourself across a silk-covered chaise lounge, right? 🙂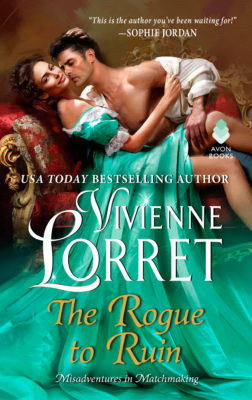 The Bourne Matrimonial Agency has one rule: Never fall in love with a client, which shouldn't be a problem when one's faking an engagement to the rogue across the street . . .
Ainsley Bourne needs the family business to succeed. But one obstacle stands in her way—Reed Sterling, the huge, handsome, former prize fighter and owner of the gaming hell across the street. His scandalous customers scare off all her marriage-minded patrons and since the devilish brute has no intention of relocating, she sets out to ruin his unsavory establishment. Yet when a vile suitor from her past reappears, Ainsley hastily claims an attachment to the first man who comes to mind . . . Mr. Sterling, to be exact.
Reed doesn't know who is more surprised by Miss Bourne's declaration. She clearly hates him, and he'd never admit their arguments simmer with unrequited attraction. Something about the pleading look in her eyes calls to Reed, and against his better judgment, he quickly plays the part of the besotted fiancé.
Pretending to be in love requires a convincing charade. But with each tantalizing touch and every scandalous kiss, Ainsley starts to wonder if Reed was ever really the enemy at all.
THE ROGUE TO RUIN will be available July 30, 2019
Warm wishes and happy reading,
Viv
Nov 21, 2018
Wishing you and yours a happy and healthy Thanksgiving. <3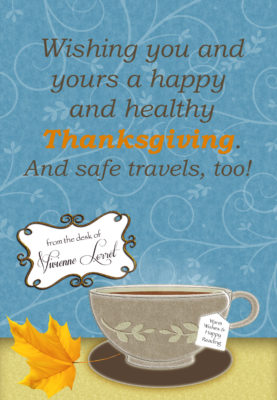 Oct 29, 2018
Feel the need to read HOW TO FORGET A DUKE (book #1 of the Misadventures in Matchmaking series) before TEN KISSES TO SCANDAL (book #2) comes out in December?
Well, you're in luck.  HOW TO FORGET A DUKE is only $1.99 (for a limited time)!
Amazon: https://amzn.to/2GrSCee
Avon: https://bit.ly/2IEgWar
GooglePlay: http://bit.ly/2DWp3fi 

iBooks: https://apple.co/2G7HHa1 
kobo: http://bit.ly/2IV3Sy0
Warm wishes and happy reading,
Viv
Oct 28, 2018
**UPDATE** Congratulations to Luz for winning the Mug Giveaway! And thank you to everyone for sharing my excitement over TEN KISSES TO SCANDAL! <3
It's a lovely morning in my corner of the world. Rain is making music on bright autumn leaves and the sky is a blanket of soft dove gray. In other words, it's the perfect day for a giveaway!
Up for grabs is: a goody bag filled with a "warm wishes and happy reading" mug; a hot chocolate on a spoon (from a specialty chocolate shop near me); gourmet marshmallows; and a signed, sneak preview booklet of TEN KISSES TO SCANDAL.
The winner will get the chance to read the first three chapters of TEN KISSES TO SCANDAL before it comes out on December 24th, while sipping hot chocolate and lounging in her or his favorite chair. Sound good?
To enter: comment in the thread beneath this GIVEAWAY post and let me know, on a scale of one to TEN *cough* how excited you are for the release of TEN KISSES TO SCANDAL on December 24th.
It's that simple. 🙂
I'll choose one winner next Saturday, November 3rd. Best of luck!
Warm wishes and happy reading,
Viv
Oct 26, 2018
Did you know that I have a page on BookBub?
The site is a fabulous way to keep track of ALL your favorite authors. Just click "follow" and you'll be notified when they have a new release AND when they have an amazing deal on a book.
And… it might be the perfect time to click "follow" on my page. Just saying… 😊https://www.bookbub.com/authors/vivienne-lorret
Warm wishes and happy reading,
Viv
Aug 31, 2018
Hundreds of thousands of people are about to descend on my little hamlet for what the locals call "Blueberry Weekend." The scents of deep fried everything, the hard thumping sounds of carnival rides, and the ripe frenzy of craft fever will fill the air. Basically an introvert's nightmare.
So why don't I just lock the doors and pull the shades until Tuesday? Two words: elephant ears.
Yup, those dirty, rotten, no good festival coordinators put elephant ears in the middle of the chaos. *sigh*
Nevertheless, I'm wishing each of you a happy (and delicious) Labor Day Weekend!
Warm wishes and happy reading,
Viv
Aug 6, 2018
It's never fun for authors to ask for reviews but it's part of the process. The truth is, reviews give us opportunities to share more books with readers in the future.
So, if you would like to leave an honest review for HOW TO FORGET A DUKE that would be wonderful. <3
Warm wishes and happy reading,
Viv