Nov 21, 2018
Wishing you and yours a happy and healthy Thanksgiving. <3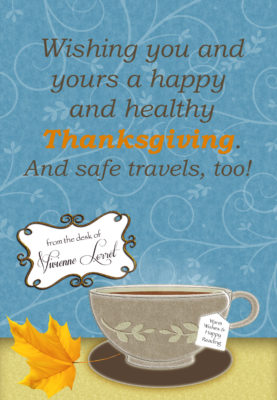 Oct 29, 2018
Feel the need to read HOW TO FORGET A DUKE (book #1 of the Misadventures in Matchmaking series) before TEN KISSES TO SCANDAL (book #2) comes out in December?
Well, you're in luck.  HOW TO FORGET A DUKE is only $1.99 (for a limited time)!
Amazon: https://amzn.to/2GrSCee
Avon: https://bit.ly/2IEgWar
GooglePlay: http://bit.ly/2DWp3fi 

iBooks: https://apple.co/2G7HHa1 
kobo: http://bit.ly/2IV3Sy0
Warm wishes and happy reading,
Viv
Oct 28, 2018
**UPDATE** Congratulations to Luz for winning the Mug Giveaway! And thank you to everyone for sharing my excitement over TEN KISSES TO SCANDAL! <3
It's a lovely morning in my corner of the world. Rain is making music on bright autumn leaves and the sky is a blanket of soft dove gray. In other words, it's the perfect day for a giveaway!
Up for grabs is: a goody bag filled with a "warm wishes and happy reading" mug; a hot chocolate on a spoon (from a specialty chocolate shop near me); gourmet marshmallows; and a signed, sneak preview booklet of TEN KISSES TO SCANDAL.
The winner will get the chance to read the first three chapters of TEN KISSES TO SCANDAL before it comes out on December 24th, while sipping hot chocolate and lounging in her or his favorite chair. Sound good?
To enter: comment in the thread beneath this GIVEAWAY post and let me know, on a scale of one to TEN *cough* how excited you are for the release of TEN KISSES TO SCANDAL on December 24th.
It's that simple. 🙂
I'll choose one winner next Saturday, November 3rd. Best of luck!
Warm wishes and happy reading,
Viv
Oct 26, 2018
Did you know that I have a page on BookBub?
The site is a fabulous way to keep track of ALL your favorite authors. Just click "follow" and you'll be notified when they have a new release AND when they have an amazing deal on a book.
And… it might be the perfect time to click "follow" on my page. Just saying… 😊https://www.bookbub.com/authors/vivienne-lorret
Warm wishes and happy reading,
Viv
Aug 31, 2018
Hundreds of thousands of people are about to descend on my little hamlet for what the locals call "Blueberry Weekend." The scents of deep fried everything, the hard thumping sounds of carnival rides, and the ripe frenzy of craft fever will fill the air. Basically an introvert's nightmare.
So why don't I just lock the doors and pull the shades until Tuesday? Two words: elephant ears.
Yup, those dirty, rotten, no good festival coordinators put elephant ears in the middle of the chaos. *sigh*
Nevertheless, I'm wishing each of you a happy (and delicious) Labor Day Weekend!
Warm wishes and happy reading,
Viv
Aug 6, 2018
It's never fun for authors to ask for reviews but it's part of the process. The truth is, reviews give us opportunities to share more books with readers in the future.
So, if you would like to leave an honest review for HOW TO FORGET A DUKE that would be wonderful. <3
Warm wishes and happy reading,
Viv
Aug 1, 2018
The page proofs are off!
I finished the final read-through of TEN KISSES TO SCANDAL and sent the galleys to my editor. This is so exciting! To celebrate, I'm sharing another snippet of Nicholas and Briar's story (because it's so hard for me to wait until December).
Warm wishes and happy reading,
Viv
TEN KISSES TO SCANDAL:
"Come away from the door, Briar, and kiss me."
The sinful timbre of his voice tumbled through her, stealing her breath. Her curiosity reached an anxious simmer, brewing hot and frantic beneath her skin. 
(available this December 💋)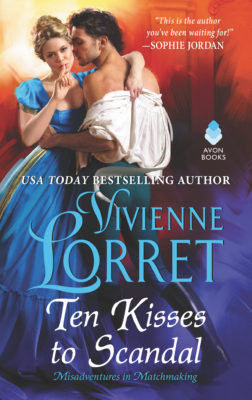 AMAZON: https://amzn.to/2J5w9BQ AVON: http://bit.ly/2MaVZFE B&N: http://bit.ly/2GAvs5n 
iBOOKS: https://apple.co/2Gj8ITT
Jul 29, 2018
I hope you are having a wonderful summer. Can you believe that July is nearly over? This year has been a wonderful whirlwind in the Lorret household, but before too much time passes I want to take a moment to thank each of you.
I can't tell you how much I appreciate your support during the release of my first mass market paperback, HOW TO FORGET A DUKE. I'm grateful for the sweet messages, tweets, and posts on Instagram. And I want to give a special thank you to those of you who've taken the time to post such thoughtful reviews. As my publisher says, "a little reader loves goes a long way in helping the author."
So to express my appreciation, I'm sharing a special summertime recipe with you for Blueberry-Lemon Scones. Enjoy!
Warm wishes and happy reading (and eating),
Viv 🙂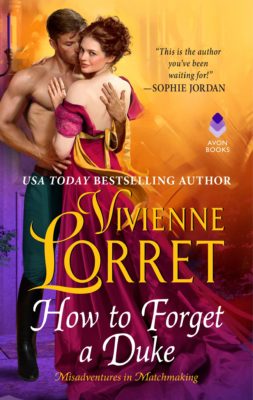 HOW TO FORGET A DUKE
Amazon: https://amzn.to/2GrSCee
Avon: https://bit.ly/2IEgWar
GooglePlay: http://bit.ly/2DWp3fi
iBooks: https://apple.co/2G7HHa1
kobo: http://bit.ly/2IV3Sy0
Jun 28, 2018
For some reason, I'm craving croissants today. 😉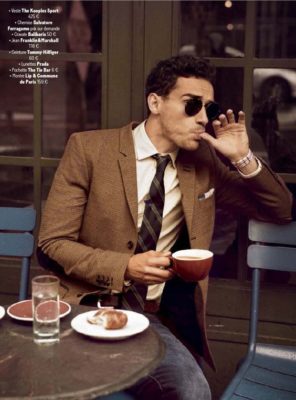 Jun 20, 2018
My copyedits for TEN KISSES TO SCANDAL have arrived and to celebrate, I'm sharing the first sneak peek! I'm so excited to be diving back into Briar and Nicholas's story that I can't stop smiling (and checking the calendar for the release date). Is it December yet?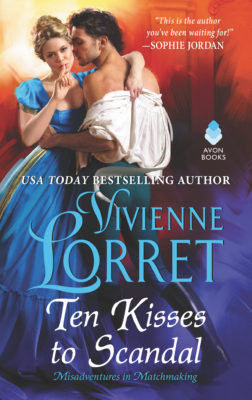 The Bourne Matrimonial Agency has one rule: Never fall in love with the client. However, they never said anything about kissing a rake…
Briar Bourne's matchmaking career could be summed up in two words—comic disaster. Unless she can learn about the irresistible forces that draw men and women together, her professional future looks rather bleak. But Briar has an intriguing plan—enlisting London's most irredeemable rake to teach her everything he knows about attraction.
Given his notorious reputation, it's no surprise that Nicholas Blacklowe, the Earl of Edgemont, requests one thing in exchange for his tutelage. For every lesson, he wants a kiss in return. And what harm could there be in a simple kiss? After all, Briar would never fall for a scoundrel…
Nicholas has no romantic notions about love, and no intention of changing his ways. He's only helping Briar so that she can find the perfect bride for his jilted cousin. Yet Briar is so clever, so curious, so candid—so blasted tempting—that soon, Nicholas can't stop wondering what it might be like if he was irresistible to her.
Ten lessons. Ten kisses. And a million ways to fall hopelessly, scandalously in love.
Excerpt:
"I'd better stand or else I'll end up on your lap."
"I wouldn't mind, love," Nicholas crooned, patting the tops of his thighs and earning a perturbed glare.
Even so, Briar was too intent on her goal and stood, settling her cool, delicate hands to his face. The simple touch of her fingertips, soft and uncertain, stirred a low flame of arousal.
"I thought your rule was no hands."
"Hush. I am immersing myself in the full experience," she whispered as if afraid of breaking the spell. "Besides, it was my rule for you, not for me. Now close your eyes, if you please."
He complied, half humoring her and half curious to see if she would balk and shy away. Yet she lingered, her warm, clean fragrance filling his nostrils and making him think of fresh bed linens, sun-kissed and wind-beaten into a decadent suppleness. He wanted to lie down with that scent, tumble with it, bury himself inside of it. And all this was before he felt the sweet rush of her breath over his lips.
~
Pre-order TEN KISSES TO SCANDAL (available December 25, 2018)
AMAZON: https://amzn.to/2J5w9BQ
AVON: http://bit.ly/2MaVZFE
iBOOKS: https://apple.co/2Gj8ITT
GooglePlay: http://bit.ly/2E41OjH
KOBO: http://bit.ly/2I91OAG