Sep 12, 2017 | Uncategorized
Ready for the first teasing glimpse of HOW TO FORGET DUKE?
Cue the stripper music…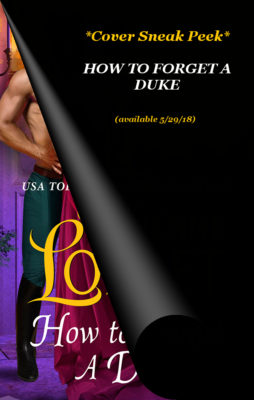 Sep 6, 2017 | Uncategorized
Publisher's Weekly gave A Christmas to Remember a starred and boxed review!!!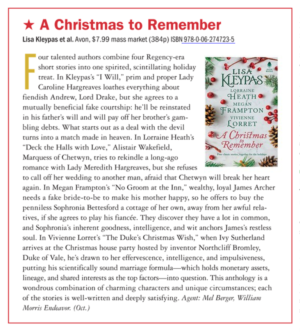 A Christmas to Remember (available 9/26/17)
Aug 16, 2017 | Uncategorized
It's a hot, sticky, testy day and I need a pick-me-up to help me get back to work. So, instead of tea this afternoon, I'm enjoying a smooth, creamy homemade frozen hot chocolate. 
Want to try one, too? Here's my recipe:
In a blender, combine:
2 handfuls of ice
1 cup of cold milk
A tablespoon (or two) of Hershey's chocolate syrup
1 packet of instant hot chocolate (I use Swiss Miss Simply Cocoa)
1 packet of chocolate instant breakfast (I use Carnation)
Blend until smooth. Pour into your favorite mug or glass. Insert straw. Top with whipped cream. Drizzle with more chocolate syrup because, hey, you're worth it. Enjoy! 
Jul 31, 2017 | Uncategorized
I'm back from RWA!
What an amazing week! I had a spectacular time and met so many wonderful readers and talented authors. <3 And Orlando was lovely, too.
Though it's good to be home, back to the familiar creaks and groans of my house, back to my favorite tea mug, and back to my writing cave.
But first, I have some exciting news!
HEA USA Today posted an exclusive sneak peek of JUST ANOTHER VISCOUNT IN LOVE!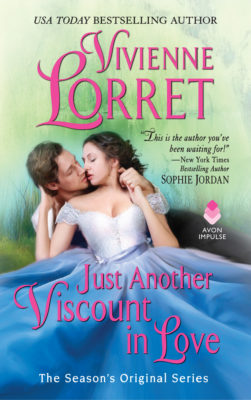 And tomorrow, I'll be hosting a Release Day Party on Facebook page (5-9 p.m. ET) for the release of JUST ANOTHER VISCOUNT IN LOVE.
I hope to see you there!
Until then… warm wishes and happy reading,
Viv
Jul 23, 2017 | Uncategorized
Great news!!! The fabulous marketeers at Avon have teamed up with Bookbub to extend the sale for WHEN A MARQUESS LOVES A WOMAN. The special sale price of $0.99 will be available for one more week!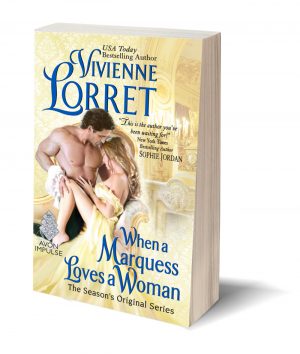 For those of you who are traveling to RWA in Orlando this week, safe travels! I look forward to meeting you at the "Readers for Life" Literacy Signing!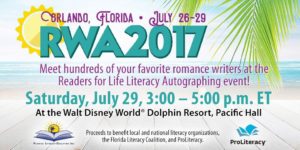 Warm wishes and happy reading,
Viv
Jul 21, 2017 | Uncategorized
Sam and Gemma's story will be out in only 11 days!!! I'm so excited!
And since I'm TERRIBLE at waiting, here is a super quick teaser for Just Another Viscount in Love <3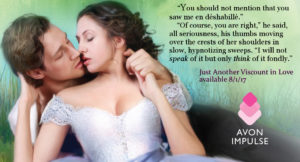 "You should not mention that you saw me en déshabillé."
"Of course, you are right," he said, all seriousness, his thumbs moving over the crests of her shoulders in slow, hypnotizing sweeps. "I will not speak of it but only think of it fondly."
~
Just Another Viscount in Love, pre-order available now (August 1 release date)
Warm wishes and happy reading,
Viv
Jul 5, 2017 | Uncategorized
Good news! WHEN A MARQUESS LOVES A WOMAN is on sale for only $0.99!
If you haven't had the chance to read Max and Juliet's story, now is the perfect time to grab your copy (and just in time to get caught up with the Season's Original series before Ellery's story comes out on August 1st).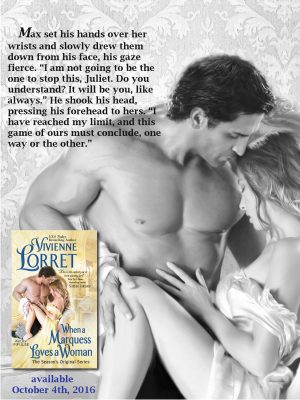 WHEN A MARQUESS LOVES A WOMAN will be on sale until July 24th (eight days before the release of JUST ANOTHER VISCOUNT IN LOVE).
Warm wishes and happy reading,
Viv
Jul 4, 2017 | Uncategorized
Jun 26, 2017 | Uncategorized
Just in case you missed it…
On Facebook, I told everyone that I'm chatting with the hero for the 2nd book in the Emma Identity Series. Since things are revealed about the series, I wanted to share the post here, too.
More to come in the next few months!
Today, I'm chatting with the hero of the second book of my new series. He's flirting and saying outrageous things to make me blush. In return, I'm finding out what makes him tick, ferreting out his darkest secrets, and deciding if he deserves a happily ever after. Or not.
 I love this process! Happy Monday!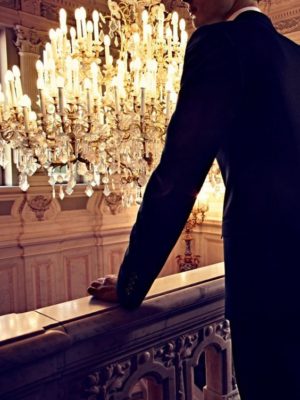 q: When is the first book coming out?
a: How to Forget a Duke will be out in May, 2018. (I'll post the links when they are available).
q: What's his name?
a: His name is Nicholas.
q:  Looking forward to meeting Nicholas, may I call him Nick? And whom is the lucky lady ? Is this the name of the book or the series?
a: Nicholas just winked and told me that you can call him anything you like. 😉 Though he doesn't know it yet, the "lucky lady" is Briar Bourne (book #2 of the Emma Identity series). The book will be available next fall. So let the countdown begin for Ten Kisses to Scandal.
Jun 12, 2017 | Uncategorized
Happy Monday! For everyone who has been waiting for a sneak peek into JUST ANOTHER VISCOUNT IN LOVE, I'm glad to say that it's finally here!
I'm so excited to share this story with you! In this sneak peek, Ellery and Gemma finally meet for the first time.
Unfortunately for Gemma, she doesn't look her best. In fact, her dress is stained with pear compote, her feet and legs are bare, and she's standing in a pond. Ellery, on the other hand, doesn't appear to mind at all. 😉
from the excerpt:
His pale blue eyes were somehow brighter than the late summer sky and seemed to grow warmer as he appraised her in return, his gaze dipping to the water where she stood.
She looked down too and noticed she'd dropped her skirts. They were now sinking like gauzy nets around her calves. Water saturated the fabric, climbing upward, turning her petticoat and dress translucent—all the way to her knees. If she stood here a moment longer, she would have very few secrets from this stranger…
To read more of this excerpt, click here.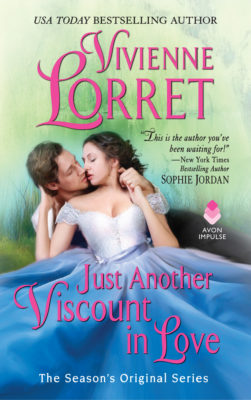 As the toast of the ton, Samuel Wortham, Viscount Ellery, should have no trouble finding a wife. Yet each lady he pursues ends up married to another. As a last hope, Sam plans a house party, intending to choose a bride from one of his guests. But when he encounters a raven-haired beauty by his estate's pond, he's captivated by her charm and desperate to see her again.
A quiet trip to the country is just what Gemma Desmond needs to take her mind off marriage. After all, as the daughter of a notorious criminal, her prospects seem quite grim. The last thing she expects is a chance meeting with a handsome lord and an invitation to his lavish house party. Ellery is everything she hoped for in a husband. But can she ever escape the stigma of her father's misdeeds?
When a pair of conniving debutantes frame her for theft, Gemma has her answer. Unwilling to let her scandalous reputation taint the kind, honorable man she adores, she flees. Yet Ellery isn't about to give her up. He might be just another viscount in love, but he refuses to let this potential bride slip through his fingers…
Warm wishes and happy reading,
Viv