Apr 25, 2018 | Uncategorized
Wonderful news! RT gave HOW TO FORGET A DUKE 4 stars!!!! "…sparkles with wit and passion… A smart, fun charmer!"
<3
And… HOW TO FORGET A DUKE will be available in a month (May 29, 2018)! So exciting!
Apr 7, 2018 | Uncategorized
I'm thrilled beyond words to share this with you!
KIRKUS REVIEW
A tenacious Regency matchmaker who thinks her client has something to hide goes on a quest to discover his secrets only to lose her memory and, in her state of amnesia, fall in love with him herself.
Jacinda Bourne and her sisters run a matchmaking firm and have the opportunity to attract more business when they sign the Duke of Rydstrom. Convinced he's keeping secrets that are impeding them from doing their job, Jacinda sneaks into his home and finds a clue only to be caught by the duke in his office. After initially letting her go, he realizes she may have unearthed information that places people he loves in danger. Traveling to his country estate to block Jacinda's attempts to learn more, he is stunned to discover she has been injured on her journey and has no memory of her life before she washed up on his land. Keeping her out of his business is futile, but he's not prepared for how perfectly she fits into every facet of his life. His sister, staff, and nearby villagers all fall in love with her, and while he knows he needs to marry an heiress, he finds himself increasingly tempted to abandon duty and expectation and be swayed by love. Yet just when he decides he can't live without her, a formidable aunt reminds him of everything he has to lose if he chooses her, and Jacinda regains her memory and her own moral code, which demands she give him up for his own good. Lorret sends up a rollicking historical romance with traces of the Jason Bourne saga in a domestic setting, boosted by vivid characters and lively storytelling.
A sparkling, witty romance that is both lighthearted and intense.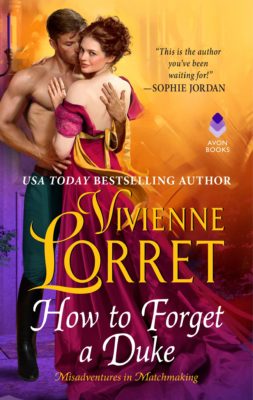 HOW TO FORGET A DUKE (available for pre-order, release date: May 29, 2018)
KINDLE: https://amzn.to/2GrSCee
GooglePlay: http://bit.ly/2DWp3fi
iBooks: https://apple.co/2G7HHa1
kobo: http://bit.ly/2IV3Sy0
Apr 5, 2018 | Uncategorized
Ready for the first glimpse of TEN KISSES TO SCANDAL?
Well then… here is the back cover copy, fresh off the press! 🙂
The Bourne Matrimonial Agency has one rule—never fall in love with the client. However, they never said anything about kissing a rake…
Briar Bourne's matchmaking career could be summed up in two words—comic disaster. Unless she can learn about the irresistible forces that draw men and women together, her professional future looks rather bleak. But Briar has an intriguing plan—enlisting London's most irredeemable rake to teach her everything he knows about attraction. Given his notorious reputation, it's no surprise that Nicholas Blacklowe, the Earl of Edgemont, requests one thing in exchange for his tutelage. For every lesson, he wants a kiss in return. And what harm could there be in a simple kiss? After all, Briar would never fall for a scoundrel…
Nicholas has no romantic notions about love, and no intention of changing his ways. He's only helping Briar so that she can find the perfect bride for his jilted cousin. Yet Briar is so clever, so curious, so candid—so blasted tempting—that soon, Nicholas can't stop wondering what it might be like if he was irresistible to her.
Ten lessons. Ten kisses. And a million ways to fall hopelessly, scandalously in love.
TEN KISSES TO SCANDAL, available December, 2018
Pre-Order links:
AMAZON: https://amzn.to/2J5w9BQ
iBOOKS: https://apple.co/2Gj8ITT
GooglePlay: http://bit.ly/2E41OjH
Apr 2, 2018 | Uncategorized
I woke up this morning to the best surprise – DARING MISS DANVERS hit #1 on Amazon (in Regency Romance)!
To all the readers who invited Emma & Oliver into your hearts and e-readers, THANK YOU SO MUCH!!! <3
And special thanks to the wonderful team at Avon and BookBub* for the fabulous downpricing!
Warm wishes and happy reading,
Viv
*For upcoming sale alerts, follow me on BookBub: https://www.bookbub.com/authors/vivienne-lorret
BookBub Deal for DARING MISS DANVERS: https://www.bookbub.com/books/daring-miss-danvers-by-vivienne-lorret?ebook_deal
Mar 29, 2018 | Uncategorized
Just this week, a handful of pre-order links have started to pop up for TEN KISSES TO SCANDAL!  So exciting! Very soon, I'll be able to share the gorgeous cover with you.
Until then, here is a teaser:
When a spiteful debutante challenges the Bourne Matrimonial Agency to find a match for the most irredeemable rake in London, Briar Bourne accepts. But how will she find a wife for an earl who only wants to kiss her senseless?
TEN KISSES TO SCANDAL is book #2 in the Misadventures in Matchmaking series and will be available in December of this year!
AMAZON: https://amzn.to/2J5w9BQ
iBOOKS: https://apple.co/2Gj8ITT
GooglePlay: http://bit.ly/2E41OjH
Mar 29, 2018 | Uncategorized
Due to a glitch on my Facebook author page, I'm posting my usual Thirsty Thursday guy (it's Charlie Hunnam today!) here. 🙂
Happy Thursday!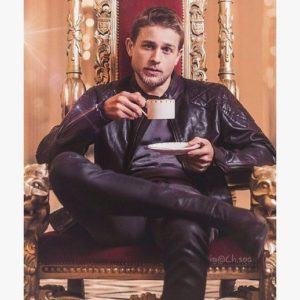 Mar 26, 2018 | Uncategorized
Great news! DARING MISS DANVERS (my first book with Avon Impulse) is on sale for only $0.99! Now is your chance to fall in love with Emma and Oliver, all over again (or even for the first time). <3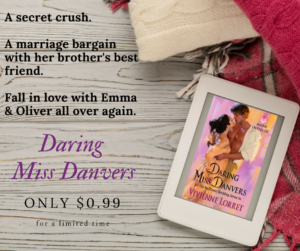 Avon   Amazon    B&N   GooglePlay    iBooks    Kobo
Warm wishes and happy reading,
Viv
Mar 19, 2018 | Uncategorized
I have such wonderful news! HOW TO FORGET A DUKE has earned a starred review from Publisher's Weekly! I'm so happy and excited, and feeling so blessed that I don't know what to do with myself. Well… other than drive to Starbucks to celebrate! 😉
I can't wait to share HOW TO FORGET A DUKE with you!
From Publisher's Weekly:
 How to Forget a Duke
In this clever, original standalone Regency set in the Whitcrest area of Sussex, the methodic Crispin Montague, fifth Duke of Rydstrom, meets his match in Jacinda Bourne, an impertinent, unapologetic busybody and part owner of the Bourne Matrimonial Agency. Crispin enlists the agency's service in finding a wealthy bride who will ask little of her husband. An incomplete application and a suspicious letter lead the naturally inquisitive Jacinda to believe Crispin is hiding something; when she's plagued with a bout of amnesia while trying to uncover his secrets, he feels obligated to take care of her. Jacinda charms everyone from the staff to the villagers to Sybil, Crispin's mute young sister. Crispin's need for funds to save his crumbling estate falls victim to his growing desire for the financially strapped Jacinda, whose agency's only rule is "never to fall in love with the client." Lorret proves her skills by making Jacinda's character plain to readers even though she doesn't always understand herself. Jacinda's constant mischief and Crispin's reactions to her behavior add welcome humor to their slow-brewing romance, and their constant bickering is the perfect foreplay. Readers will hope for Lorret to develop a series from here.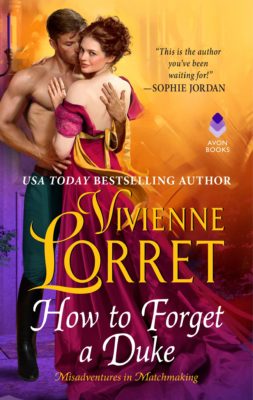 Mar 14, 2018 | Uncategorized
Are you an Avon Romance newsletter subscriber? Right now, the amazing team at Avon is offering a chance to win a galley copy of HOW TO FORGET A DUKE! How cool is that?
Just follow the link to enter: https://a.pgtb.me/q35FPW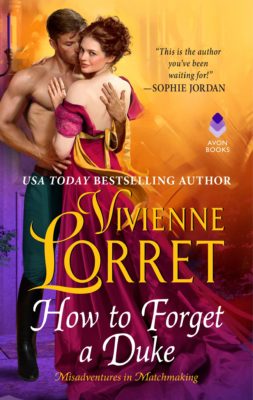 HOW TO FORGET A DUKE (available May 29, 2018)
Pre-order available now:
Mar 6, 2018 | Uncategorized
The Prodigal Post-its have returned! After organizing my desk, I found three wayward packs. Yay!
Seeing them in a tidy little stack, I have the illusion that everything is under control. That I won't fill half a page with random story facts, then fill the other with a grocery list. Or that I won't scrawl the "most crucial story fact EVER" up the sides (not realizing until later that it's illegible). Yup. This time it will be different.
Welcome back into the fold, little ones. We have a new story to write.
🙂