Publishers Weekly calls THE DEBUTANTE IS MINE "... the riveting first Season's Original novel from Lorret..."
I am over the moon and soaring higher!!! And I'm so thankful that I had the opportunity to write this story. Thanks to the hardworking team at Avon Impulse and to my amazing editor Chelsey Emmelhainz (you will be missed <3). And also to Stefanie Lieberman for helping to find a home for the Season's Original series.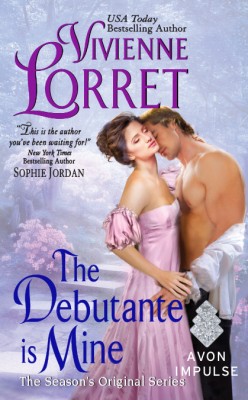 From Publishers Weekly:
A will and a bet create the drama in the riveting first Season's Original novel from Lorret (All I Want for Christmas Is a Duke), set in Regency-era London. According to her father's will, Miss Lilah Appleton has until the end of her third season to find a noble husband; if she fails, she has to marry her horrible cousin. The final season has arrived and none of the gentlemen she's met even remembers her name, nor has anyone offered a proposal. When confirmed bachelor Jack Marlowe meets Lilah, he's intrigued by her sharp wit and scolding tongue, and he immediately takes a liking to her. When he learns that her predicament could result in a life similar to his mother's, he becomes determined to prevent that fate and therefore offers to assist her in finding a suitable husband. They fall in love, but because of his status, a match between them will not satisfy the requirements of the will. A well-crafted plot, well-developed characters, and last-minute revelations set the bar high for the sequels.(Apr.)
I can't wait to share Jack and Lilah's story with you!
Warm wishes and happy reading,
Viv
Comments are closed.