Archive for May, 2016
May 29, 2016 | Uncategorized
To those who gave their lives fighting for our freedom, and to all the men and women in service… Thank you.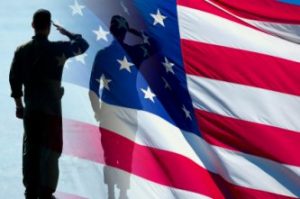 May 25, 2016 | Uncategorized
The cover for THIS EARL IS ON FIRE is up on all e-retailers! YAY!!!
I'm so excited about this story and cannot wait until August to share it with you. So, inevitably, I'll post a few teasers and snippets as the time draws near. I know patience is a virtue, but (much like my sewing skills) I'm afraid it isn't in my genes.  

AMAZON: https://www.amazon.com/This-Earl-Fire-Seasons…/…/B017R5FAT6…
AVON ROMANCE: https://www.harpercollins.com/97800624…/this-earl-is-on-fire
B&N: http://www.barnesandnoble.com/w/this-earl-is-on…/1122927104…
iBOOKS: https://itunes.apple.com/…/this-earl-is-on-fi…/id1057107495…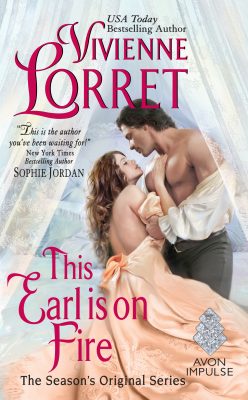 May 18, 2016 | Uncategorized
The Chicago Spring Fling, that is. 🙂
Tomorrow, I leave for the Chicago Spring Fling–a 2-day conference full of friends, industry tips and tricks, and a book signing!
Robyn Carr, Courtney Milan, Christina Lauren. Laura Kaye and dozens of other authors will be there, too!
If you're in the Chicago/Shaumburg area, be sure to drop by on Saturday, May 21st from 3 to 5 (Central) and say hi. I'd love to meet you in person. And as an added incentive, I'll be giving away swag at my table: pens, bookmarks, chocolate… (Oh yeah, I knew the chocolate would grab your attention. I might even have some tea on hand. Alright, you caught me. I'll definitely have tea on hand).
I hope to see you there!
Warm wishes and happy reading,
Viv
May 15, 2016 | Uncategorized
Yay! My first French cover is here!
THE ELUSIVE LORD EVERHART has a new look and a new title (À vous, pour toujours, translated: FOREVER YOURS)! I love that the Harlequin Victoria cover artists took special care to make the cover represent part of the story (the letter that Gabriel wrote Calliope) <3
This French translation will be available July 1, 2016 from Harlequin Victoria
May 15, 2016 | Uncategorized
For a limited time, THE MADDENING LORD MONTWOOD is only $.99!
If you haven't read the last book in The Rakes of Fallow Hall series, now is the perfect time!
Frances Thorne can handle anything—except losing her position, her home, and her father to debtor's prison all in one day. So when a generous offer of assistance falls into her lap, she's grateful for a second chance, even if it seems too good to be true. The last thing she needs is for the charming, infuriating—maddening—Lord Lucan Montwood to stand in her way.
The end of the bachelors' wager is near, and Lucan Montwood can taste victory—just so long as he can stay away from the one woman who sees through his façade. Yet when he learns that Frances has been caught in an insidious trap, Lucan can't deny that he will do anything to help. Convincing her to trust him is the hard part, resisting her is next to impossible, but falling in love with her? That may be far too simple.
May 14, 2016 | Uncategorized
The second round of revisions for THIS EARL IS ON FIRE are done! Woohoo! Now, only copyedits to go and then *whoosh* the August 2nd on sale date will be here in no time!
I can't wait to share Liam and Adeline's story with you!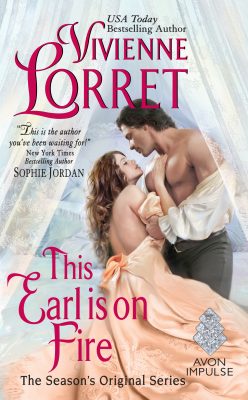 I celebrated last night by shopping with DH and DS 2.0. It was a lovely rainy night, made all the more enjoyable by the drive, the music, and the company. <3
And speaking of driving… I'll be heading to the Chicago Spring Fling in a few days. I'm a little nervous, but also looking forward to experiencing the event (and hopefully meeting Robyn Carr and Courtney Milan). Hope to see you there!
This weekend, I'll be packing and working on WHEN A MARQUESS LOVES A WOMAN… at least, as soon as I wake up. So, time to dive into my mug of chai and start the day.
Wishing you a wonderful weekend!
Viv
May 9, 2016 | Uncategorized
I'm currently working on the 2nd round of revisions for THIS EARL IS ON FIRE and the first draft of WHEN A MARQUESS LOVES A WOMAN, and strangely enough, I'm having fun with both (and I'm not even on medication as I say this!).
Yet there are moments when I feel as if the deadline IS a grizzly chasing me, and I wish I could hide in a giant mug of tea and just float there for a while. Then, when I've had enough chai, I get back to work and just let the bear breathe down my neck the whole time.
And next week, the deadline grizzly bear and I will be driving to the Hyatt Regency in Shaumburg to attend the Chicago Spring Fling. I'm so excited!!! The bookstore will have copies of THE DEBUTANTE IS MINE, and I'll have goodies to give away at my table for those who join me at the book signing, Saturday, May 21st, from 3-5 p.m.
I hope to see you there!
Until then, warm wishes and happy reading,
Viv
May 3, 2016 | Uncategorized
Here it is!!!! I absolutely ADORE this cover!
Gail Dubov and the Avon Art Department truly captured Liam and Adeline from THIS EARL IS ON FIRE.  <3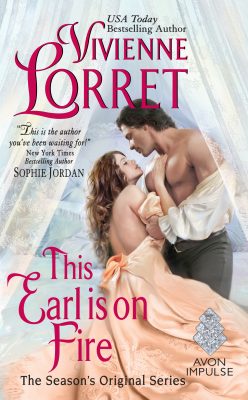 And now I can't wait to share their story with you!
THIS EARL IS ON FIRE, available August 2nd, 2016
Warm wishes and happy reading,
Viv
May 3, 2016 | Uncategorized
Just in case you've been waiting to hold THE DEBUTANTE IS MINE in your hands, to breathe in the crisp scent of ink and paper, or even to take a peek at the cover every time Jack Marlowe steps onto the page… you're in luck!
THE DEBUTANTE IS MINE is available in paperback today!
If you'd like a bookmark for your copy, just send me an email with your address and I'll mail you one. 🙂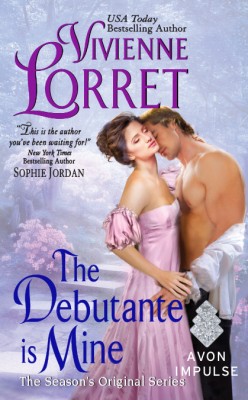 Warm wishes and happy reading,
Viv