Archive for June, 2016
Jun 29, 2016 | Uncategorized
My editor put together a fabulous backcover blurb for WHEN A MARQUESS LOVES A WOMAN (available October 4, 2016)! And so, without further ado, here is your first glimpse of Max and Juliet's story:
As a young, penniless gentleman, Maxwell Harwick knew he had little to offer Juliet White—the most beautiful debutante of the season—except his love, and one thoroughly scandalous kiss. But when they were discovered in a compromising position, a nearly ruined Juliet fled into the arms of a rich, older lord… taking Max's heart with her.
Now a widow, Lady Juliet Granworth intends to use the fortune she inherited from her odious husband to build a new life in London. Five years have passed, but she's never forgotten Max… or his soul-searing kiss. Yet it's clear the newly-minted Marquess of Thayne has not forgiven her—after all, the infuriating man can barely stand the sight of her. But Juliet has endured far too much to give up without a fight and if it's a battle of wills he wants, it's a battle he'll get.
He hates her for breaking his heart. She detests him for destroying her future. But beneath all the loathing, simmers an intoxicating passion that neither can ignore… and the harder they resist, the harder they will inevitably fall.
Jun 28, 2016 | Uncategorized
So I woke to a computer issue that stopped my heart. My desktop was blank.
I tried right-clicking for a menu. Nothing. Searching the taskbar. Nothing. Restarting. Nothing. Pinky just stared back at me, completely mute.
Researching the issue (aka frantically searching my phone while chanting "this can't be happening"), I found several not very helpful sites and videos (which all involved right-clicking for a menu).
Frustrated, I contemplated rushing Pinky to a computer guy. Yet even through Pinky's silence, I could hear her gasp at the idea of being manhandled (or even guy-handled) by a stranger. She is like a southern belle, with beauty, grace, and sweetness on the outside, but tough-as-nails on the inside. And she simply wouldn't stand for some rough and tumble man clicking all over her desktop, and awkwardly fumbling with her underthings.
So I tried again, searching Google for a fix. And lo and behold, I found the right thread! Apparently, an update changed my computer to "tablet mode." *grrr*  Once I disabled that (with an embarrassingly simply click on the only thing I hadn't clicked before), Pinky was back in all her glory.
We both breathed a sigh of relief.
And now before Pinky and I go to work, it's time for a soothing cup of tea…
Sending warm wishes to you and to the thread-posters who help us keep our sanity…
Viv
Jun 21, 2016 | Uncategorized
It's here!!! I've uploaded the first excerpt for THIS EARL IS ON FIRE on my website, and I've also posted it below.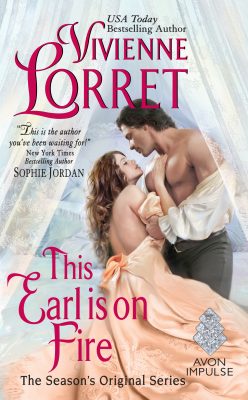 The sheltered daughter of a country baron, Miss Adeline Pimm comes to London looking for adventure… and finds it in the form of a bloody, unconscious man slumped in the doorway of her family's rented townhouse. Though his identity is a mystery, Adeline is inexplicably drawn to the handsome, injured man and vows to nurse him back to health. 
Liam Cavanaugh, the scandalous Earl of Wolford, is startled when he awakens in an unfamiliar bed, wrapped in bandages that hinder his eyesight, with no memory of why he was beaten half to death. Although he can't see the witty young woman who tends to his wounds, her alluring voice—and a single stolen kiss from her soft lips—helps soothe his pain. But when he is fully healed, Liam is not ready to let go of the one woman who stirs his deepest longings.
Liam will do whatever it takes to see Adeline again, even if it means giving up his rakish ways. But his disreputable past is not so easily forgotten and his secrets are far more dangerous than he—or Adeline—ever imagined.
A little background info:
As you can guess from the back-cover blurb, in the beginning of the book, Liam is injured and Adeline's parents take him into their home to help him recuperate. But what begins as a good deed for them, turns into a trial for Adeline's reputation. Society cannot accept the idea of a scandalous rake, albeit an injured one, sleeping beneath the same roof as a debutante.
But just so you know, Liam tried very hard to resist her. 🙂
THIS EARL IS ON FIRE (available August 2nd, 2016):
"… perhaps if my pillow were fluffed."
She looked at him as if he were teasing her, but played along nonetheless, chafing her hands together. "I must have an innate talent for pillow fluffing."
If one could possess a talent for such a thing, she certainly did not. Not that he would tell her. Because if he did, he already knew the result. She would leave his side, and he would lose the relief—or whatever this was—he found in her presence. And he had never been one to deny himself necessary comforts.
Then, as she had done before, she leaned over him. Her hands went to either side of his face, pressing into the pillow, the inviting plumpness of her breasts resting on his chest. Enjoying the moment, he closed his eyes and drew in a deep breath that hinted at pear blossoms.
She went still. "Why are your hands at my waist?"
Were they? He squeezed his hands and found that, yes, they most definitely were. He also discovered that the satin gown was warm from the heat of her body and fine enough that there was little barrier between his hands and the slender curve of her waist and the slight flare of her hips.
"I'm merely aiding in your efforts by offering stability," he said, by way of an excuse. Of course, he hadn't intended to touch her—gentleman's daughter and all that. Given his pleasure-seeking nature, however, he wasn't entirely surprised by his wayward hands. Perhaps he should think about removing them before he found them cupped around her breasts. Inadvertently, of course.
"Afraid that I will crush you?" she said with a laugh against his lips. "Well, do not worry, because I have finished. Your pillow is sufficiently plump."
More than. And lumpy as well, but he did not mind in the least.
Jun 10, 2016 | Uncategorized
Bookish is helping Avon Romance celebrate their 75th anniversary this year. Woohoo! They asked authors about the books that kindled their everlasting romance for… well… romance.
I was thrilled to be asked to contribute and honored to be part of such a spectacular list of authors. <3 
And if you're looking for some great new-to-you reads for the summer (or to put on your keeper shelf forever), check out this great list of books.
Warm wishes and happy reading,
Viv