It's here!!! I've uploaded the first excerpt for THIS EARL IS ON FIRE on my website, and I've also posted it below.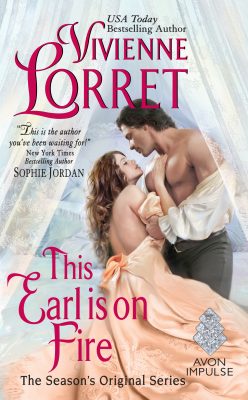 The sheltered daughter of a country baron, Miss Adeline Pimm comes to London looking for adventure… and finds it in the form of a bloody, unconscious man slumped in the doorway of her family's rented townhouse. Though his identity is a mystery, Adeline is inexplicably drawn to the handsome, injured man and vows to nurse him back to health. 
Liam Cavanaugh, the scandalous Earl of Wolford, is startled when he awakens in an unfamiliar bed, wrapped in bandages that hinder his eyesight, with no memory of why he was beaten half to death. Although he can't see the witty young woman who tends to his wounds, her alluring voice—and a single stolen kiss from her soft lips—helps soothe his pain. But when he is fully healed, Liam is not ready to let go of the one woman who stirs his deepest longings.
Liam will do whatever it takes to see Adeline again, even if it means giving up his rakish ways. But his disreputable past is not so easily forgotten and his secrets are far more dangerous than he—or Adeline—ever imagined.
A little background info:
As you can guess from the back-cover blurb, in the beginning of the book, Liam is injured and Adeline's parents take him into their home to help him recuperate. But what begins as a good deed for them, turns into a trial for Adeline's reputation. Society cannot accept the idea of a scandalous rake, albeit an injured one, sleeping beneath the same roof as a debutante.
But just so you know, Liam tried very hard to resist her. 🙂
THIS EARL IS ON FIRE (available August 2nd, 2016):
"… perhaps if my pillow were fluffed."
She looked at him as if he were teasing her, but played along nonetheless, chafing her hands together. "I must have an innate talent for pillow fluffing."
If one could possess a talent for such a thing, she certainly did not. Not that he would tell her. Because if he did, he already knew the result. She would leave his side, and he would lose the relief—or whatever this was—he found in her presence. And he had never been one to deny himself necessary comforts.
Then, as she had done before, she leaned over him. Her hands went to either side of his face, pressing into the pillow, the inviting plumpness of her breasts resting on his chest. Enjoying the moment, he closed his eyes and drew in a deep breath that hinted at pear blossoms.
She went still. "Why are your hands at my waist?"
Were they? He squeezed his hands and found that, yes, they most definitely were. He also discovered that the satin gown was warm from the heat of her body and fine enough that there was little barrier between his hands and the slender curve of her waist and the slight flare of her hips.
"I'm merely aiding in your efforts by offering stability," he said, by way of an excuse. Of course, he hadn't intended to touch her—gentleman's daughter and all that. Given his pleasure-seeking nature, however, he wasn't entirely surprised by his wayward hands. Perhaps he should think about removing them before he found them cupped around her breasts. Inadvertently, of course.
"Afraid that I will crush you?" she said with a laugh against his lips. "Well, do not worry, because I have finished. Your pillow is sufficiently plump."
More than. And lumpy as well, but he did not mind in the least.