It's almost here! This Saturday, I hope you join me, Julia Quinn, Eloisa James, and Tessa Dare at the Elkhart Public Library for a screening of "Love Between the Covers," followed by a book signing.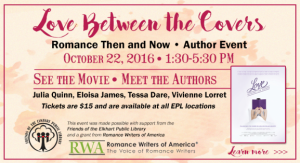 THE EVENT
Join us at the Main Library on Saturday, October 22, 1:30-5:30 pm for a fascinating foray into the world of romance authors and readers!
Tickets* are $15, cash or check, and can be purchased at any Elkhart Public Library location. Admission includes a screening of  LOVE BETWEEN THE COVERS, a book signing by our guest authors, and a gift bag. All proceeds benefit the Friends of the Elkhart Public Library.
Books will be available for purchase (cash or check only) or you can bring your own copies to be signed.
*If you do not purchase a ticket, you are welcome to come to the book signing from 4:30-5:30 pm at no charge.
I hope to see you there!
Warm wishes and happy reading,
Viv