HOW TO FORGET A DUKE is here!!! It's finally here!!! I'm hearing a chorus of angels singing Etta James's "At Last" (which also happens to be my ringtone).
I'm sending a thousand hugs and a million thanks to all my readers for sharing this with me and making this release possible. <3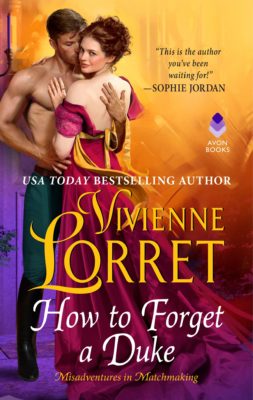 The Bourne Matrimonial Agency has one rule: Never fall in love with the client. A simple thing to remember . . . unless you're a matchmaker with amnesia.
The Duke of Rydstrom requires a wife. Preferably one with a large fortune and a complete lack of curiosity. The last thing he needs is a meddling matchmaker determined to dig up his dark family secrets.
All Jacinda wants is to find a bride for a duke. How hard could that be? He's handsome, enigmatic . . . and hiding something. She's sure of it. Determined to discover what it is, she travels to his crumbling cliffside estate. Yet, by the time she washes up on his beach, she can no longer remember who she is or why the duke is so familiar to her. All she knows is that his kisses are unforgettable—and she intends to use every skill she can to discover what's in his heart . . .
When Miss Bourne can't remember what brought her to his ancestral home, Rydstrom intends to keep it that way. Yet as the days pass, his true challenge will be safeguarding his secret while resisting this woman who—confound it all—may well be his perfect match.
Amazon: https://amzn.to/2GrSCee
Avon: https://bit.ly/2IEgWar
B&N: http://bit.ly/2GdgfUu
GooglePlay: http://bit.ly/2DWp3fi
iBooks: https://apple.co/2G7HHa1
kobo: http://bit.ly/2IV3Sy0
Warm wishes and happy reading,
Viv
Comments are closed.