My copyedits for TEN KISSES TO SCANDAL have arrived and to celebrate, I'm sharing the first sneak peek! I'm so excited to be diving back into Briar and Nicholas's story that I can't stop smiling (and checking the calendar for the release date). Is it December yet?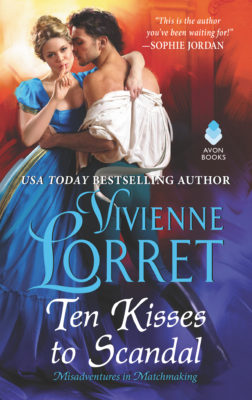 The Bourne Matrimonial Agency has one rule: Never fall in love with the client. However, they never said anything about kissing a rake…
Briar Bourne's matchmaking career could be summed up in two words—comic disaster. Unless she can learn about the irresistible forces that draw men and women together, her professional future looks rather bleak. But Briar has an intriguing plan—enlisting London's most irredeemable rake to teach her everything he knows about attraction.
Given his notorious reputation, it's no surprise that Nicholas Blacklowe, the Earl of Edgemont, requests one thing in exchange for his tutelage. For every lesson, he wants a kiss in return. And what harm could there be in a simple kiss? After all, Briar would never fall for a scoundrel…
Nicholas has no romantic notions about love, and no intention of changing his ways. He's only helping Briar so that she can find the perfect bride for his jilted cousin. Yet Briar is so clever, so curious, so candid—so blasted tempting—that soon, Nicholas can't stop wondering what it might be like if he was irresistible to her.
Ten lessons. Ten kisses. And a million ways to fall hopelessly, scandalously in love.
Excerpt:
"I'd better stand or else I'll end up on your lap."
"I wouldn't mind, love," Nicholas crooned, patting the tops of his thighs and earning a perturbed glare.
Even so, Briar was too intent on her goal and stood, settling her cool, delicate hands to his face. The simple touch of her fingertips, soft and uncertain, stirred a low flame of arousal.
"I thought your rule was no hands."
"Hush. I am immersing myself in the full experience," she whispered as if afraid of breaking the spell. "Besides, it was my rule for you, not for me. Now close your eyes, if you please."
He complied, half humoring her and half curious to see if she would balk and shy away. Yet she lingered, her warm, clean fragrance filling his nostrils and making him think of fresh bed linens, sun-kissed and wind-beaten into a decadent suppleness. He wanted to lie down with that scent, tumble with it, bury himself inside of it. And all this was before he felt the sweet rush of her breath over his lips.
~
Pre-order TEN KISSES TO SCANDAL (available December 25, 2018)
AMAZON: https://amzn.to/2J5w9BQ
AVON: http://bit.ly/2MaVZFE
iBOOKS: https://apple.co/2Gj8ITT
GooglePlay: http://bit.ly/2E41OjH
KOBO: http://bit.ly/2I91OAG