For all the present-under-the-tree-shakers and gift-in-the-closet-peekers who need just a glimpse of LORD HOLT TAKES A BRIDE in order to survive the next 16 weeks until Asher and Winn's story hits shelves (3/31/20), this is for you. 🙂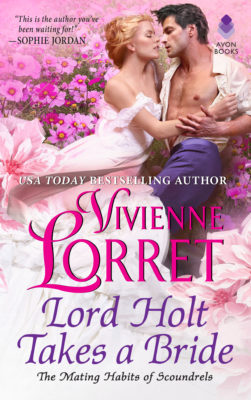 "Winn, this isn't the time to be shy," Asher said from the base of the ladder. "Toss down your dress."
She blushed to the roots of her hair. Unfortunately, even turning crimson wasn't enough to warm her frozen fingers and stop her teeth from chattering.
"I'm n-not b-being shy," she stammered, fumbling with the fastenings. "Y-you've already s-seen me w-without the dress."
"You're quite right. Therefore, there's no reason to stand upon ceremony."
Before she could ask what he meant by that, the top of his head emerged over the edge of the loft. She might have gasped at his audacity, but then the rest of him came into view and her mind whirred to a sudden stop.
Asher Holt was naked.
Well, mostly. His bare, broad shoulders and sinewy arms appeared first, muscles shifting and bunching beneath his skin as he navigated the final rungs—and far more adeptly than she had done. Then he unfolded from a crouch, and stood.
Her greedy eyes skimmed the length of him, taking in every . . . blessed . . . inch.
~LORD HOLT TAKES A BRIDE, available March 31, 2020
***
Warm wishes and happy reading,
Viv
Comments are closed.