It's hard to believe that it's February already. And what year is this exactly?
The older I get, time seems to zoom by in a blur. Days meld with weeks and somehow weeks turn into months and before I know it, I'm in the second month of a new decade. (Yes, I've been a bit slow in taking it all in.) 😉
But now I'm here in 2020. *waving hello*
Last week, I turned in MY KIND OF EARL (book #2 in the Mating Habits of Scoundrels series) to my lovely editor. And for the first time in months, I'm taking a few days to breathe, to recharge, and to get organized (or… you know… to pretend that I'm getting organized).
Part of my to-do list is preparing for an upcoming book signing with my local Barnes & Noble (Mishawaka, Indiana). The exact date is yet to be determined, but it will happen in March just before the release of LORD HOLT TAKES A BRIDE. I'll post any updates here.
In the meantime, the bookmarks for the signing have already arrived! And I'm so excited that I don't want to wait to share them. So… if you would like a bookmark, please feel free to visit my "contact" page and send me a request, along with your mailing address.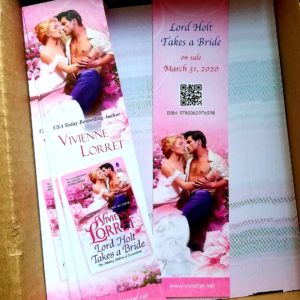 Warm wishes and happy reading,
Viv
Comments are closed.