Jul 31, 2017 | Uncategorized
I'm back from RWA!
What an amazing week! I had a spectacular time and met so many wonderful readers and talented authors. <3 And Orlando was lovely, too.
Though it's good to be home, back to the familiar creaks and groans of my house, back to my favorite tea mug, and back to my writing cave.
But first, I have some exciting news!
HEA USA Today posted an exclusive sneak peek of JUST ANOTHER VISCOUNT IN LOVE!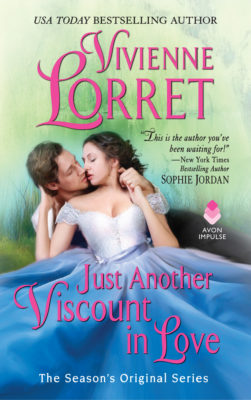 And tomorrow, I'll be hosting a Release Day Party on Facebook page (5-9 p.m. ET) for the release of JUST ANOTHER VISCOUNT IN LOVE.
I hope to see you there!
Until then… warm wishes and happy reading,
Viv
Comments
4 Responses | TrackBack URL | Comments Feed
I am not a Facebook person, but I feel sure your launch will be the first step to a very successful book.

Thank you, Annette! I'll be hosting other giveaways via my blog and newsletter in the next few months, as well. Happy reading!

Yummy! I cannot wait to read and review this book!

Good Luck with JUST ANOTHER VISCOUNT IN LOVE!