Archive for March, 2018
Mar 19, 2018 | Uncategorized
I have such wonderful news! HOW TO FORGET A DUKE has earned a starred review from Publisher's Weekly! I'm so happy and excited, and feeling so blessed that I don't know what to do with myself. Well… other than drive to Starbucks to celebrate! 😉
I can't wait to share HOW TO FORGET A DUKE with you!
From Publisher's Weekly:
 How to Forget a Duke
In this clever, original standalone Regency set in the Whitcrest area of Sussex, the methodic Crispin Montague, fifth Duke of Rydstrom, meets his match in Jacinda Bourne, an impertinent, unapologetic busybody and part owner of the Bourne Matrimonial Agency. Crispin enlists the agency's service in finding a wealthy bride who will ask little of her husband. An incomplete application and a suspicious letter lead the naturally inquisitive Jacinda to believe Crispin is hiding something; when she's plagued with a bout of amnesia while trying to uncover his secrets, he feels obligated to take care of her. Jacinda charms everyone from the staff to the villagers to Sybil, Crispin's mute young sister. Crispin's need for funds to save his crumbling estate falls victim to his growing desire for the financially strapped Jacinda, whose agency's only rule is "never to fall in love with the client." Lorret proves her skills by making Jacinda's character plain to readers even though she doesn't always understand herself. Jacinda's constant mischief and Crispin's reactions to her behavior add welcome humor to their slow-brewing romance, and their constant bickering is the perfect foreplay. Readers will hope for Lorret to develop a series from here.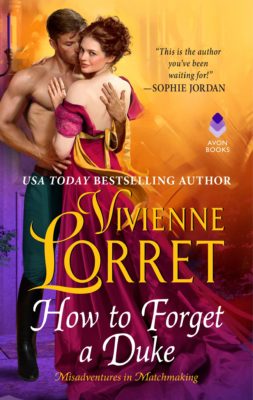 Mar 14, 2018 | Uncategorized
Are you an Avon Romance newsletter subscriber? Right now, the amazing team at Avon is offering a chance to win a galley copy of HOW TO FORGET A DUKE! How cool is that?
Just follow the link to enter: https://a.pgtb.me/q35FPW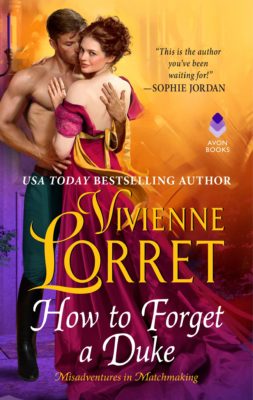 HOW TO FORGET A DUKE (available May 29, 2018)
Pre-order available now:
Mar 6, 2018 | Uncategorized
The Prodigal Post-its have returned! After organizing my desk, I found three wayward packs. Yay!
Seeing them in a tidy little stack, I have the illusion that everything is under control. That I won't fill half a page with random story facts, then fill the other with a grocery list. Or that I won't scrawl the "most crucial story fact EVER" up the sides (not realizing until later that it's illegible). Yup. This time it will be different.
Welcome back into the fold, little ones. We have a new story to write.
🙂