Archive for December, 2015
Dec 31, 2015 | Uncategorized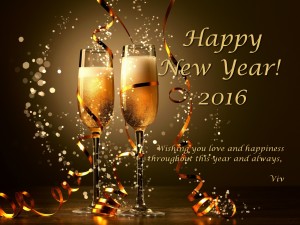 Dec 29, 2015 | Uncategorized
Whew! We're still here! The Christmas Eve asteroid missed us!
At the end of each year, I like to reflect on my blessings; the health of my family (we're still here!), happy moments, taking stock of attained goals and making new ones for the future.
As for the end of 2015, I will always remember this year as the Christmas of the Scarves. I received six! One from a dear friend. One from my mother. And four (yes, four!) from my husband. Either my loved ones know that I am always cold, or they are telling me to cover up my neck.  (Though upon recent inspection, I've discovered that my neck is not hideous, after all.)
However, there could be another reason for the multitude of scarves. Do you see these radar images of the Christmas Eve asteroid? And do you see what resembles a "tail" behind her?
Normally comets have tails, where as, asteroids do not. So then, what could this be?
Well, I think our Christmas Eve asteroid started a fashion craze by sporting a long flowing "scarf" as she zoomed past our beloved planet.
In the picture you can almost catch a glimpse of her, tossing a merry wave in our direction as she promises to visit in the future when she has more time.
And now, whenever I don one of my many scarves (or all of them at once, if the urge takes me), I will think of her little fly-by and the great blessings we have because she decided not to visit.
Wishing you all the best of this year and the next,
Viv
Dec 23, 2015 | Uncategorized
Dec 22, 2015 | Uncategorized
ALL I WANT FOR CHRISTMAS IS A DUKE is out in paperback today! 🙂
I did a little price comparison to find the best deals. You can fill your stocking at:
Amazon for $5.94
Barnes & Noble for $6.99
Booksamillion for $5.59
HarperCollins for $6.99
Target for $5.85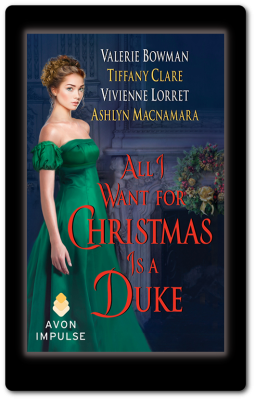 Dec 14, 2015 | Uncategorized
Jack and Lilah's book has a cover!!! The magicians in the Avon art department really know how to make a steamy cover, don't they? 🙂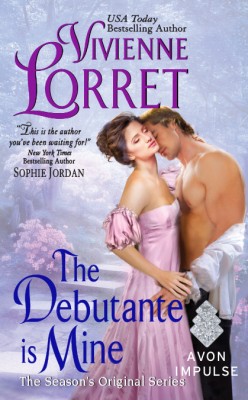 Dec 7, 2015 | Uncategorized
UPDATE: Congratulations to Michele and Teralyn–the winners from the blog and newsletter "All you need is tea, warm socks, and a frog" giveaway! 🙂
Everyone knows the old adage: all you need is tea, warm socks, and a frog.
After all, tea and warm socks relax and soothe away stresses. As for a frog… Well, maybe that wasn't always included in the list. However, finding the right frog is an essential part of happily ever after.
It's true!
Just ask Ivy, the heroine in "The Duke's Christmas Wish," my novella in ALL I WANT FOR CHRISTMAS IS A DUKE. She might even tell you that frogs can be rather romantic. But I'll let you decide for yourself. 😉
That's why I'm hosting a GIVEAWAY! I'm so excited about the upcoming paperback release of ALL I WANT FOR CHRISTMAS IS A DUKE that I'm going to send an advanced copy to one winner, along with an assortment of goodies.
The prize pack includes a copy of ALL I WANT FOR CHRISTMAS IS A DUKE, a $15 Starbucks gift card, a pair of super cozy frog socks, chocolate, and a frog Christmas ornament.
To enter, just add a comment to this post, telling me about your favorite/wackiest Christmas ornament.
I'll select one winner at random at the end of the day, Wednesday, December 9th.
Until then…
Warm wishes and happy reading,
Viv
Dec 5, 2015 | Uncategorized
Look what arrived on my doorstep!!! Paperbacks for ALL I WANT FOR CHRISTMAS IS A DUKE!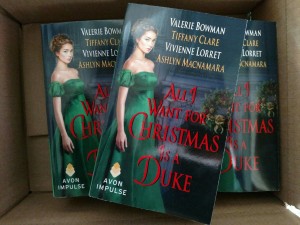 You know what this means, don't you?
Yup… 'tis the season for a GIVEAWAY!
I'm going to put a fabulous prize together! More details to come…
Until then, have a great weekend! 😀
Viv
Dec 2, 2015 | Uncategorized
ALL I WANT FOR CHRISTMAS IS A DUKE is available now! And after the first day, this Avon Impulse anthology hit #21 in Regency on Amazon! Yay!!!  Thank you so much for all your support. <3 I'm so blessed to be part of this book with my fellow authors: Valerie Bowman, Tiffany Clare, and Ashlyn Macnamara.
Just in case you don't have your copy yet (or you're waiting for the paperback–available December 22nd), ALL I WANT FOR CHRISTMAS IS A DUKE is a Regency Era Christmas anthology with one main theme—every story has a duke. Is there anything better?
Here is a peek at the front and back cover copy:
The holidays are a time for dining, dancing, and of course—dukes! Celebrate the Christmas season with this enchanting collection of historical romances featuring the most eligible bachelors of the ton…
A childish prank may have reunited the Duke of Hollingsworth with his estranged wife, but only the magic of Christmas will show this couple 'tis the season of second chances…
Sophie Kinsley planned to remain a wallflower at the Duke of Hollyshire's ball. Yet when a dance with him leads to a stolen kiss, will the duke be willing to let her go? Or will Sophie's Christmas wish be granted at last?
To the Duke of Vale, science solves everything—even marriage. When the impulsive Ivy Sutherland makes him question all of his data, he realizes that he's overlooked a vital component in his search for the perfect match: love.
Patience Markham never forgot the fateful dance she had with the future Duke of Kingsbury. But when a twist of fate brings them together for Christmas Eve, will the stars finally align in their favor?
In my story, THE DUKE'S CHRISTMAS WISH, Duke of Vale suddenly finds his perfectly catalogued world in disarray when an unexpected guest arrives at his Christmas party.
"Miss Ivy Sutherland of Norwood Hill—no consequence." ~ The Duke of Vale, THE DUKE'S CHRISTMAS WISH
The story takes off from there and rushes headlong into… Well, I'll let you discover how it ends. However, I will say that frogs might play a part in the unexpected romance between North and Ivy.
"Frogs?" you might ask.
And in response, I cheerfully nod. "Yes. Frogs."
After all, when one thinks of Christmas, frogs immediately spring to mind. Right? Wait. Did you just shake your head? But frogs must pop up in the top five things you associate with Christmas.
No? How about the top ten?
Hmm…
I guess it's time for me to make a confession. The holidays don't make me think of frogs either. At least, not until I started to writeTHE DUKE'S CHRISTMAS WISH.
One day, while formulating ideas, I walked past my curio cabinet and smiled at a frog that my youngest had made me years ago.
Then something happened. Since I was already in brainstorming mode, the first thing I thought of when I looked at that frog was the tale of The Frog Prince. However, instead of thinking of ways to transform my story into one that resembled the fairytale, I started wondering about the prince who'd become a frog, and also what type of man he'd become during his post-amphibian years.
Within this strange primordial pool of thoughts, a story began to form, taking me in directions that I'd never expected. But I love how it turned out, and I hope you do, too.
Here is another sneak peek into THE DUKE'S CHRISTMAS WISH:
"Have you always been impatient and impulsive?"
"Even as a child, I'm afraid," she admitted, nodding to herself. "I could not wait for the next footrace over the hill, or the next adventure. I could not stand to linger in bed when I was wide-awake, even when it was before dawn. Nor could I tolerate being kept from my slumber when that was the only thing keeping me from beginning a new day."
Caught in a memory, she continued. "There was one summer, many years ago, when my aunt, uncle and younger cousin came to stay with us. She had a pet frog that she kept in a box by her bedside table. She had an absurd notion that if she gave him a kiss, he would turn into a prince, but was waiting for the day when she had the courage to find out. Apparently, the sound of constant croaking did not hinder my cousin's sleep. Across the hall, it had the opposite effect on me. Therefore, I decided to liberate the frog from his confines.
"In my own defense," she said after a short pause, "I never thought the frog wouldn't be able to hop from such a distance."
"What was the distance?" the duke asked, his tone warmer and suspiciously amused.
"A third floor window," she murmured. "Over a stone patio."
Vale laughed, a hearty, rough-hewn sound that shook the small room. Automatically, she reached out for support and, as luck would have it, he was the closest thing to seize. His hand settled on her hip, steadying her. Gradually his laughter died, but she could still feel his warm puffs of air against her cheek. "Your cousin never had the chance to see if her frog was a prince in disguise."
"Oh, he wasn't. I made sure of it… just in case."
If you are interested in some of the other things that inspired THE DUKE'S CHRISTMAS WISH, I've posted them to my Pinterest page.
Warm wishes and happy reading,
Viv
Dec 1, 2015 | Uncategorized
CONGRATULATIONS to Dee, Cali, and Ellen, the winners of the ALL I WANT FOR CHRISTMAS IS A DUKE Newsletter Giveaway!!!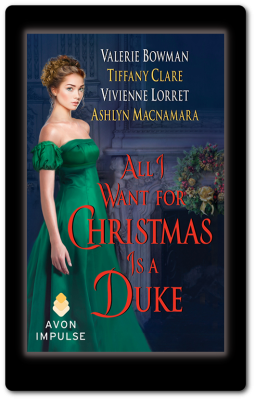 It's the perfect time of year to relax and cozy-up with a romance, or two–or four in this case. ALL I WANT FOR CHRISTMAS IS A DUKE has four duke-inspired Christmas novellas in one book. That's a lot of holiday love!
I'm blessed to be among such talented authors–Valerie Bowman, Tiffany Clare, and Ashlyn Macnamara. I can't wait to share our stories with you!
And if you'd like to subscribe to my newsletter, just enter your email address in the Newsletter box at the bottom of the page.
… and I just might be hosting another giveaway before Christmas. 😉
Warm wishes and happy reading,
Viv